by
Marjorie Gottlieb Wolfe



Syosset, New York
STORIES THAT START WITH THE LETTER
A

A $700-billion Bailout Package: "Genug Iz Genug"
A Cockamamy Ruling
A "Beybi Maidel"...Named "Max"
A Banished Word List for "Der Yid"?
A Bisele Glik
A Chronology of Bullying


A "Diete" Is A Weigh Of Life
A Few Father's Day Stories


A Four-Word Epitaph
A "Ganef" At Auschwitz
A "Ganef" In Henrico, VA
Guide To The Catskills--Part II


A Gute Neshome
"A Gute Neshome" Bag Lady
A "Heym" Fit For "Di Malke"


A is for Abecedarian
"A" is for "Adolph"
A Mind Is A Terrible Thing To Waste
A Mother's Day Chronology
A "Musey" Of Broken Relationships


A My Name Is Ada My Husband's Name Is...... "Ikh Fargesn"
A New Book Which Starts With "Khreyn"


A New "Vort" (Word): "Tebowing"
A Popular "Vort" (Word): "Unfriend"
A Picture "Knepl" For Paul
A Quiz For A Sweet New Year


A "Shaynem Dank" for Calling About the Stop the Sag Campaign
"A Shreklekhe Zakh." (A Terrible Thing) Doctors Need To Improve Their Bedside Manner
"A Shvartze Chaseneh" (A Black Wedding)
A Suggested "Bucket List" For Jews
A War with Di Tsung
A Wedding In A Funeral Home "Ver Volt Dos Geglaibt?"
A Wedding Meal for the Orem
A Woman's "Kholem" (Dream): Two Humorous Stories
A You're Adorable B You're A "Boychick"
A Yiddisher "Tateh" Tackles Difficult Questions


Abbott & Costello: Lou Costello Wants To Buy A "Kompyuter"
Advice: Adults Must Read To "Der Kinder"
Advice: Cancel Your "Kredit-Kartl" Before You Die
Advice For Daddy-To-Be, Al D'Amato
Advice For Dr. Phil
Advice From A Florida "Snowbird"
Advice To Teachers & Administrators
Aggressive Costumed Characters Are A Nuisance


Anatevka: The Fictional City I Would Most Like To Inhabit


Antoyshung for Orthodox Jew on Season 5 Of the Apprentice
"Aktsent"* Or No"Aktsent,"She's Still A Yiddishe Mamme
Acceptable "F" Words
Advertising to the Jewish Airline "Pasazhir"
Al & Tipper Separate After "Fertsik" (40) Years Of Marriage
Alaskan "Kompyuter" Terms For Sarah Palin
All I Want For Hanukkah Is A $449.99 Parrot Behop Drone And A Blahnik [Shoe] Menorah


Allen Sherman and Roney Plaza Hotel


"Altsding" (Everything) I Know About Running A Small
Ambien...With A Side Of Rugelach
...and Have a "Gliklekh"* Cholesterol-Free Thanksgiving
An Aspirin For "Makherayke" (Contraception)? "Lekherlekh" (Ridiculous)
Andy Rooney Is About To "Tsuriktsien Zikh"
Ann Landers Speaks A "Bisel" Yiddish
Amal and George Clooney Are Having "Tsviling"


Applying For A Job? Some Advice
Are "Looks-Challenged" People Discriminated At Work?
Are We "Raykh" (Rich)?
Are You a "Gantser K'nacker"?
Are You a "Kikh" (Kitchen) Stranger?
Are You a Weiner
Are You About To "Graduirt Fun Koledzh"? Here's Some Advice
Are You And Your Spouse "Krankayt-compatable?"
Are You Going To Be "Festive Frugal"?
Are You Going To Be "Festively Frugal" This Hanukkah?
Are You Moyredik
Asssorted "Chachkeles" In Wolf Point, Montana


At The Olympics, Just Tell A British Woman She's A Tasty Piece Of Crumpet
Atonement Starts With A 13.5 "Minut" Speech
Ayngleyfbenish
"Ayzkrem" (Ice Cream) Larry King Knows The Scoop
AZOY
___________________________________________
Marjorie Gottlieb Wolfe is the author of
two books: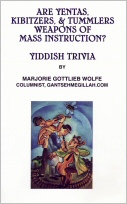 "Yiddish for Dog & Cat Lovers" and
"Are Yentas, Kibitzers, & Tummlers Weapons of Mass Instruction? Yiddish
Trivia." To order a copy, go to her
website: MarjorieGottliebWolfe.com

NU, what are you waiting for? Order the book!


Site Designed and Maintained by
Haruth Communications