by
Marjorie Gottlieb Wolfe



Syosset, New York
STORIES THAT BEGIN WITH THE LETTER
F

Fabulous Lines From "Fiddler Aoyf Di Dakh"


Facial Recognition "Dos Ponum" Tells It All


Family-Friendly Trips...Maybe Now They'll Listen!
Family Remedies: Bankes (Aka "Cupping"), "Guggle-muggle," Garlic Around The Neck, And More "Lang Leben Zolt Ir." (May You Live Long)
"Fargvaldikn" "Nit Oyf Eich Gedacht!"
Fashion Faux-Pas Or Holocaust Couture?
Fascinating Conversations With Strangers


Father's Day 2009
Feeling Broke? "Er Redt Fun Haynt Biz Morgn"
Feminist Terms
"Fertsn" (14) Children...then A Tv and Book Deal?
Fiddler On The Roof S.A.T. Exam
Financial Conversations With "Mameh"
Financial Infidelity In Marriage
Finger Counting & Other Math Stories
Flip Phones Are Back: What Next? S & H Green Stamps


Fngrs Luv 2 Txt Msg Grandma
For Love Of A "Tokhter"-- Making "Tost' With The Grandchildren
45 Seconds Of Utter "Shtilkayt"


"Frayndlekhkayt" In Restaurants
Free Story Dispenser: What A "Vunderlekh" Idea!
Freg Mich Becherim!
Freg Mir Nit Keyn Kashes? Farvos Nit
French Waiters Smelled Of Truffle, And The Jewish Waiters Of Schmaltz


Freshman "Tsen" (10)
From "Amniosynthesis" To "Testtube": A Dictionary For Daddy-to-be, Tiger Woods
From Craigslist To Yidtown: The New Jewish Craigslist
From "NYC Schlep" To "Kinderschlep" The Many Meanings Of "Schlep"
From Pantsuit To Power Suit
From Pennsylvania 6-5000 to the "Kosher Tselularer Telefon"
From Silk Salesman To Show Biz: The Humor Of Storyteller, Myron Cohen (1902-1986)
Frozen Embryos Who Gets Custody?


"Fuftsik" (50) Questions
"Fuftsik" (50) Years Of "Fiddler" Memories With Pia Zadora and Others



___________________________________________
Marjorie Gottlieb Wolfe is the author of
two books: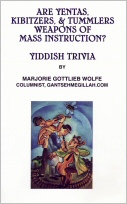 "Yiddish for Dog & Cat Lovers" and
"Are Yentas, Kibitzers, & Tummlers Weapons of Mass Instruction? Yiddish
Trivia." To order a copy, go to her
website: MarjorieGottliebWolfe.com

NU, what are you waiting for? Order the book!


Site Designed and Maintained by
Haruth Communications