FROM CRAIGSLIST TO YIDTOWN:
THE NEW JEWISH CRAIGSLIST


by
Marjorie Gottlieb Wolfe



Syosset, New York
Most of us are familiar with Craigslist. Its classified advertisements website ("vebzayt") has sections devoted to jobs, housing, personals, for sale, items wanted, community ("tsibur") gigs, resumes, and discussion forums.
Craig Newmark is the founder, and Craigslist was launched in 1995 and incorporated as a private-for- profit company in 1999.
Some of their personal ("perzenlekh") ads are quite unique.
In 2014, a man placed an ad on Craigslist offering the naming rights for his child for a minimum of $20,000. (Note: The Yiddish has been added.)
The ad said: We are a Jewish family that just gave birth to our 9th daughter. We would like to sell the opportunity to name our daughter to someone else ("emetser anderesh"). This is an excellent opportunity for someone who may not have had children, or someone looking to honor ("opgebn koved") a relative ("korev"), etc. Or even to honor someone's memory that was killed in the Holocaust.
In an effort to establish his credibility, the man emailed JTA with a photo of a wristband from the hospital dated Jan. 22, 2014.
Regardless of whether you're prepared to pay, if you have a name suggestion ("forshlog") for the little lady, email babyname@jta.org. We just might publish our favorites in a follow-up blog post.
JTA then held an interview with the mystery ("misterye") dad.
When asked whether this offer was real, he replied, "It is totally real. This is my ninth daughter; we're out of names basically. We needed the money, and I asked my wife if we could do it. I thought she would turn it down, but she said we could try it.
When asked how he came up with the idea, he replied, "About four or five years ago, I remember hearing in the news ("nayes") that someone else did the same thing. We're a little rushed; we'd like to name the baby on Saturday ("der shabes"). We tried to post it to eBay, but it was a little more complicated than we thought, so we posted it on Craigslist.
When asked what the father did professionally, he replied, "I'm a schoolteacher ("lerer") in Lakewood.
Another question, "What made you wait until now to try this as opposed to say, daughter No. 7 or No. 8?"
His reply: "We're out of relatives to name after. For each one, we chose another relative. We thought it might be a nice thing; there might be an elderly person who passed away or someone without any children. Whoever would do this, we would consider them like family ('mishpokhe')."
When the father was asked what he would do if he raised the minimum bid of $20,000, he replied, "I would use the funds to support my child." (He said that the most expensive ("tayer") parts of raising a child in Lakewood was the yeshiva tuition and rent.)
The father was questioned about his favorite names. "Nothing crazy, like 'Box.' Preferably something biblical." He discussed the name "Mooshy"—it would be out. We're Sephardic, so I'm not sure we would do 'Chaya Shprintz' either. But maybe for the right price." (He laughs.)
BTW, Marjorie Wolfe is awaiting the birth of her 7th grandchild—a boy. Her son and daughter-in-law have been calling the expected child, "Baby M." She knows it won't be Morris, but maybe "Max"?
And now we come to Yidtown, the new Jewish Craigslist.
theyeshivaworld.com states that "It's a communications platform full of easy-to-access information relevant to Jews all over the world ("di velt")…Whether it's to help a Jew find a job ("shtele"), an apartment, or to circulate a sick person's name ("nomen") for davening, Midtown wants to help bring yidden together." It wasn't created as a money-making business, but as a chesed. Note: "Chesed" is a Hebrew word commonly translated as "loving kindness." It is valued by religious Jews of all denominations.
Source: The Times of Israel, "Pay to name a Jewish Baby on Craigslist" by Adam Soclof, 1/24/14.
Shown below are some example of ads placed on Yidtown. The comments have been added by the writer.
WEDDING GOWN FOR SALE. Kleinfeld's New York Designer Wedding Gown for sale. Size 6 - 8. European lace…
Comment:
Preworn wedding dress will help save plenty of bucks. Find out the story behind the dress. You might want to consider asking if the wedding worked out and led to a fairy-tale marriage or an unhappy ("umgliklekh") divorce. If you're the superstitious kind, you might want to check with the seller about that. Ask the seller to Skype with you and to show you the dress via Webcam.
KOR PA600 KEYBOARD FOR SALE KORG PA600 with heimeshe beats…
And, of course, you'll play the songs from great wedding CD album, "A Heimishe Wedding" by the Nafshein Orchestra…and Wedding Niggun to a rousing Moditzer Chassidic march. (Modzitz is the name of a Hasidic group within Orthodox Judaism. "Niggun" means "tune
or melody.")
CARPET CLEANING TECHNICIAN
Shomer Shabbas carpet cleaning co. looking to hire full time help. No experience necessary. Training provided.
Love to get rid of "schmutz"/"shmuts"?
DINING ROOM
Giving away round Mahogany table with 6 chairs free.
Please call…
No longer cooks! "Yu, Yu, Nayn, Nayn" (Yes, Yes, No, No…maybe.)
MIAMI APT.
2 bedroom, 2 bath newly renovated oceanfront apt. in the heart of Miami Beach, 56 Street & Collins Ave….
Florida has confirmed that local transmission of Zika virus is occurring in about a 4.5 square mile area in Miami Beach within the boundaries of 8th and 63rd Streets. See map below…
LOOKING FOR MANAGER, BARISTA AND WAITERS. COFFEE BAR, 345 CENTRAL AVENUE, LAWRENCE.
LOOKING FOR SHOMER SHABBOS MANAGER/BARISTA, WAITERS MORNING AND EVENINGS SHIFTS…
Start studying! Do you "farshteyn" (understand) these terms? Caffe Macchiato, Caffe Medici, Cher Sugar (with Equal), Frappuccino, Half-Caf, On a Leash (to go), Shot in the Dark, Thunder Thighs, Whipless (sans whipped cream)….
NEW IN BOX FLUSHMATE PRESSURE SYSTEM FOR SALE.
I replaced an old pressure flushing toilet with a regular one and have a brand new system replacement that I no longer need. These usually retail for over $100. Willing to sell for $50.
overstock.com says this product is great for training your pet to use the toilet.
A BAG OF SHOES FROM LAKEWOOD TO BALTIMORE.
A bag of shoes was accidentally left behind in Lakewood, NJ. There happens to be someone leaving from Baltimore, MD, in 2 weeks back to Israel. If someone is able to get the bag to Baltimore, that would be a really cheesed. Or, if someone is leaving Lakewood and can bring it to Israel that would be great as well.
Chris Rock said, "Women need food, water, and compliments. That's right. And an occasional pair of shoes."
APARTMENT WESLEY HILLS upcoming school year.
Not there for Shabbos or Yom Tov. No need for kitchen/laundry.
Mom does his cooking and laundry?
THE JEWS MEET 'N' GREET BROOKLYN EVENT WITH TAMAR ANSH STRETCH. All women and teens are welcome. You do NOT have to be a writer to enjoy this evening. Join us for a stimulating evening packed with inspiration, advice and practical tips For Women Writers.
ADVICE: It is said that words with a "K" sound funnier. Think "kvetsh," "krenk," "kopveytik" (headache), "knipl,""klug" and "krassavitseh" (beautiful woman). Life hastaught me…never buy a cactus covered couch with a credit card ("kredit-kartl") if you can carry cash.
LOOKING FOR MOVER
Looking for a mover or someone that is able to move a couch from Manhattan to Monsey this week.
Have you checked out "Schleppers Moving," "Nice Jewish Boy Moving & Storage," and "Mazel-Tov Movers"?
BRIS CRAIGSLIST. RABBI SHALOM DENBO, MOHEL.
Trained under the famed Rabbi Yosef Dovid Weisberg at Jerusalem's Shaare Zedek Hospital. I am available to perform a meaningful bris ceremony for you in Los Angeles, Hawaii, and the entire West Coast.
Remember what Billy Crystal wrote about his bris? "Hi, I'm Billy and I'm an insomniac. Right now I've been up since 1948. It actually started back when I was born: First seven days, perfect. I was doing great, sleeping in, clocking twenty hours a night. Then day 8, they woke me up and somebody with a black hat and a beard cut off the tip of my penis. I've been up ever since."
And then there's the story about the new "mohel" who came to the "shtetl" and in an attempt to make his presence known, rented a little shop. He painted his name ("nomen") on the window. Fearing that this would not get enough attention, he hung a big clock ("zeyger") outside the door.
Along came one of the townspeople who asked the "mohel," considering what he does for a living, why he hung a big clock outside the door.
"Vos den zol ich hengen?" (What then should I hang?) asked the "mohel."
DOG SITTING, DOG VACAY USER?
Our home is very tidy and spread out so any dog will be able to consider it a home away from home. They will be fed, walked, trained, and the only thing they will want to do when they get home is sleep from a hard days work.
One question: Can you prepare the dog for his B-A-R-K Mitzvah?
BARTER, BRISTOL BAY SMOKED AND FROZEN SALMON (WASILLA)
I have an excess of Sockeye Salmon I caught set netting last month. I have jars of smoked salmon for $6 a jar, or five jars for $20. I also have vacuum sealed and frozen for $5 per lb. and each vacuum sealed bag is about 1 lb. Please text.
And then there's the lighter moment in Obama's State of the Union Address in 2011. Obama pointed out that a dozen different agencies deal with exports and at least five with housing.
Then there's my favorite example: The Interior Dept. is in charge of Salmon while they're in fresh water, but the Commerce Dept. handles them when they're in salt- water. (Laughter). I hear it gets even more complicated once they're smoked. (Laughter and applause) The joke earned one of the biggest laughs of the night and appears to be the most well-remembered moment of the night among Americans who watched.
LOST KEYS. $100 REWARD FOR LOST KEYS. FAIRBANKS Help. Lost keys possibly in S. Cushman area, but really they could be anywhere. There is a Nissan key with lock unlock buttons built into key and an assortment of other keys. Keys are on Army lanyard. Offering $100 dollar reward if keys are found before Friday and $50 reward if found after.
If unsuccessful, let's send this man a copy of Billy Crystal's 2013 book, "Still Fooling 'Em - Where I've Been, Where I'm Going, and WHERE THE HELL ARE MY KEYS?"
___________________________________________
Marjorie Gottlieb Wolfe is the author of
two books: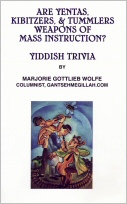 "Yiddish for Dog & Cat Lovers" and
"Are Yentas, Kibitzers, & Tummlers Weapons of Mass Instruction? Yiddish
Trivia." To order a copy, go to her
website: MarjorieGottliebWolfe.com

NU, what are you waiting for? Order the book!


Site Designed and Maintained by
Haruth Communications