by
Marjorie Gottlieb Wolfe



Syosset, New York
STORIES THAT BEGIN WITH THE LETTER
M

Mad Mel
Making Dating Great Again


Mama, I Got 80% On The AP Physics Exam; And, By The Way, I'm "Shvanger"
Marge Rejected By Ben & Jerry's.... But  "Alts Iz Gut"
Marvel Editor, Bill Rosemann,You Are "A Gute Neshome"
Maternity, Meternity And "The Supermom Syndrome"


May Your "Pupik"* Always Be Clean
Mel Gibson: "Sha, Di Kinder Zoin Nisht Heren" (Quiet, The Children Shouldn't Hear)
Melania Trump's Speech: Plagiarism, Vandalism or Carelessness?
Men & Women: Are They Cut From The Same "Shtof"?
Menschdom
Men's "Gatkes" - An Economic Barometer?
Mercedes-Benz Tales--with A Jewish Flavor
Miami Stories
Michael Eisner (Ex-disney Ceo) Says, "The Hardest Artist To Find Is A Beautiful, Funny Woman"...Such "Narishkeit"


Miky Understands Hebrew
Mints On The Pillow...and "A Sakh Mer"
"Minyan," "Minyan-Shleppers" and "Fillet Minyan"


Minyon Mensch
'Mishpucha "(Family) Day" Sept. 26, 2005
"Mobile Entertainment" Name That Song
Moochers Take Note


Molly Goldberg, Are You Listening? Want A Restful "Dreml" (Nap), Drink Coffee
Money is Round - Sometimes It's Here, Sometimes It's There
Morman Tales
Morty and Lee - I Love Ya!
Mother Goose...or Mother Gooseberg?
Mother Love - Smother Love A Quiz About Doris Roberts
Movie Theater Matrons
Moyde Zayn Zikh
Mr. Schwarzenegger: You're Wrong! Florida Is Not Just For "Alt" People
My Friends Are Making Me Zoftik
My "Tate-Mame" (Parents) Never Wore Levi's
My "Zun" Is Into Yoga; His Mother' Into Yogurt

___________________________________________
Marjorie Gottlieb Wolfe is the author of
two books: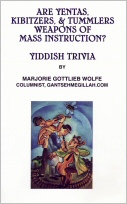 "Yiddish for Dog & Cat Lovers" and
"Are Yentas, Kibitzers, & Tummlers Weapons of Mass Instruction? Yiddish
Trivia." To order a copy, go to her
website: MarjorieGottliebWolfe.com

NU, what are you waiting for? Order the book!


Site Designed and Maintained by
Haruth Communications