by
Marjorie Gottlieb Wolfe



Syosset, New York
STORIES THAT BEGIN WITH THE LETTER
D

"Daddy, I Got An 'A' In Philosophy And Star Trek"
Dead People Vote: Election Day Stories
Dear Bank Manager
Dear Latchkey "Man"
Dear Zun
Decorating Windows


"Der Dokter" Will Skype Me...But Can He Diagnose My Ailment?


"Der Fartekh" (The Apron)
"Der Humor" of Office Relationships
"Der Humor" Of The Senior Voter
"Der Hunt" Now Gets To Stay At Outdoor Eateries In "Noo Yawk"


"Der Kinder" Must Be "Besholem"
Der Nekrolog - The Obituary
Der Nomen Iz Aleph (The name is Aleph)
"Der Nomen" Is Chaim
"Der Nomen" Is Irving


"Der Nomen" Is Preston
"Der Nomen" (The Name) Shirley Sounds Better Than Savannah
"Der Panik" (The Panic) Over Mammograms
Der Shtul (the chair)
"Der Skandal" At "Der Mikvah"


Der Toes
Der Vays Lign
Diamonds Are A Girl's Best "Fraynd"
"Di Mode"* Pearls Vs. Star Of David
"Di Shviger" in the "Vays Hoyz"
Diagnosing The Illness In "Akhtsn" (18) Minutes
"Di Epl" Is Making The News Again
"Di Frayndshaft" Is Gone...but "Der Kotlet" Was Free
"Di Katastrofe" of Marital Disputes
"Di Shtrof" Fit The Crime?


Di Shviger (The mother-in-law)
'Di Unterban" Encourages 'Der Shidekh"
Dick & Jane - Oy, What a Por
Did God Say, "If The Manolo Blahnik Fits, Wear It"?
Did Max Bialystock And Bernie Madoff Conspire To Carry Off The "Perfekt" Crime?
Did You See That Belly Button ("Pupik")? Recording Conversations In The Operating Room


Dip In, Dip Out: The "Ink Monitor"
Dismantling "Der Kinder-tsimer"
Do Love and Marriage Go Together Like a Horse and Carriage? The Marriage Ref
Does God Want Us To Be "Raykh" (Rich)?
Does Your Turkey Have Chutzpah?
Dogs Have A "Vunderlekh" Life


Donald Trump, The Whiner


Don't Be A Weiss Guy
Don't Excuse Athletes Who Abuse Women
Don't Use Your "Tselularer Telefon" At Lincoln Center...Or Any Other Theater


Doing "Gut" Feeling "Beser"
Dr. Oz Grilled On Capitol Hill: A Yiddish Guide To The "Meditsin" Man
The Dream "Shtele"* Quiz
Dressupyourtate.com
Driving The "Oytomobile" Is Making News


"Druk" (Stress) Or Extreme Deprivation May Account For Increased Number Of Cancer Cases
During The Holiday "Sezon," Does "VD" Mean Volume Discount?
Dysfunctional vs Functional Families

___________________________________________
Marjorie Gottlieb Wolfe is the author of
two books: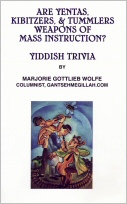 "Yiddish for Dog & Cat Lovers" and
"Are Yentas, Kibitzers, & Tummlers Weapons of Mass Instruction? Yiddish
Trivia." To order a copy, go to her
website: MarjorieGottliebWolfe.com

NU, what are you waiting for? Order the book!


Site Designed and Maintained by
Haruth Communications