by
Marjorie Gottlieb Wolfe



Syosset, New York
STORIES THAT BEGIN WITH THE LETTER
I

I Could have Sworn I parked it right here
I Read Part of the Book All the Way Through
If You Want A Perfect Child, Go Find A Mannequin
If You Want To, You Can Turn Over The Whole World ("Az Me Vil, Ken Men Iberkern Di Gantse Velt.")
Ikh Hob Far Dir A Sod
"Ikh Hob Geton Epes Shlekhts" (I have done something wrong)
I'm "Fardeiget" (Worried)...Again
I'm Seeing "Royt"
In Six Words--or More--I Love You
In 2013, It's "Gobble Tov"
Infertility 'Iz Nisht" A Laughing Matter
Inquiring Minds Want To Know A 'Bisl' Yiddish
Instant Tsufridnkayt
Internet Addiction
Introducing "Der Komiker," Henny Youngman (1906 - 1998)
iPhone Apps for"fressers"/foodies
Is Being A Secretary A Bad "Fakh"?
Is Beverly--The Jewish Mom On "The Goldbergs"-- Worth $59,862.30?
Is Blagojevich a "Dreykop"/'draykop" or Very "Klug" (Smart)?
Is Christine O'Donnell A "Makhsheyfe"/"Machashaifeh"?
Is Everything "Shlecht' For You?
Is Hillary "Farklempt"
Is Life A Glass Of Tea—0r A Glass Of Manischewitz Wine? Liquid Refreshments
Is Matthew Broderick a "Mittelmessiker"?
Is Paying "Koved" to Non-jewish Congregants "Gut Fur Di Yiden"?
Is Sir Tim Hunt A Sexist Man At "Harts" (Heart)? Or, Do Women In Science Cry* When They Are Criticized?


Is This Suit A Shanda
Is Your Young Adult "Dershlogn"? Does He/She Want To Stop The World And Get Off?"
It Takes a "Yiddisher Kop" to Teach Math and Science
It's CH, CH, Like You Have Popcorn in the Throat; It's CCHHH
It's 4:30pm I'm All "Fapitz'd" Time For The "Early Bird" Special
It's "Beybi" (Baby) Bump Watch And Please Call Hillary
It's a Shanda
It's Hurricane "Sezon" Don't "Panik"
It's Never Too Late To Say "I Love You"
It's No Trick: Fewer Babies Born On Halloween
It's Spring Dress For Success
It's "Teier" (Costly) To Raise A Child--Education Facts, Stories And Trivia

___________________________________________
Marjorie Gottlieb Wolfe is the author of
two books: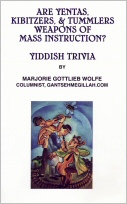 "Yiddish for Dog & Cat Lovers" and
"Are Yentas, Kibitzers, & Tummlers Weapons of Mass Instruction? Yiddish
Trivia." To order a copy, go to her
website: MarjorieGottliebWolfe.com

NU, what are you waiting for? Order the book!


Site Designed and Maintained by
Haruth Communications