INQUIRING MINDS WANT TO KNOW A 'BISL' YIDDISH
by
Marjorie Gottlieb Wolfe



Syosset, New York
The Yiddish word for the number eleven is "elf." Shown below are some 11-letter Yiddish words. Yes, they're more difficult than "Yiddishkayt" (Jewishness or Judaism), "onshikenish" (troublesome person or thing), or "shodnvinkel" (mischief maker).
Grab a #2 "blayer" (pencil) and see if you can match column A with column B. Good luck!
Word Meaning
1. oysleyzgelt A. creature
2. rekomendirn B. undertaking/enterprise
3. ureyniklekh C. jelly, jam
4. rezervatsye D. insult
5. shloftsimer E. little by little/gradually
6. shpayzkamer F. to roam/travel
7. shvakhkepik G. to devour/gobble
8. strakhirung H. to pardon/excuse
9. tsesheydung I. to come back/return
10. tsherepakhe J. old-fashioned
11. tsukerkrenk K. to withdraw
12. tsonbershtl L. ransom
13. tsunemenish M. bedroom
14. tsuriktsien N. feebleminded
15. tsurikkumen O. turtle
16. unternemung P. nickname
17. oysgematert Q. diabetes
18. altfrenkish R. pantry
19. antshuldikn S. to recommend
20. arumblonken T. toothbrush
21. ayngemakhts U. reservation
22. aynshlingen V. separation
23. baleydikung W. insurance
24. bashefenish X. great-grandchildren
25. bislekhvayz Y. exhausted
26. farkhalesht Z. unconscious
KEY:
1. L 14. K
2. S 15. I
3. X 16. B
4. U 17. Y
5. M 18. J
6. R 19. H
7. N 20. F
8. W 21. C
9. V 22. G
10. O 23. D
11. Q 24. A
12. T 25. E
13. P 26. Z
Marjorie Gottlieb Wolfe's favorite "Yiddish-type" word found in Steve Stern's book, "The Angel of Forgiveness" is "Scherera-tzadik.

___________________________________________
Marjorie Gottlieb Wolfe is the author of
two books: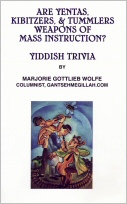 "Yiddish for Dog & Cat Lovers" and
"Are Yentas, Kibitzers, & Tummlers Weapons of Mass Instruction? Yiddish
Trivia." To order a copy, go to her
website: MarjorieGottliebWolfe.com

NU, what are you waiting for? Order the book!


Site Designed and Maintained by
Haruth Communications