by
Marjorie Gottlieb Wolfe



Syosset, New York
STORIES THAT BEGIN WITH THE LETTER
W

"Waiting For Godot" Returns To B'Way... And It'S In Yiddish
Wake Up and Smell "Di Kave"
Wanted: Jewish "Mishpokhe" To Swap A Wife
Want To Be Jewish From The Inside Out?


Want To "Honik-Khoydesh" In Israel For $1,500?


We All Need "Emetser" (Someone)
Wedding Announcements
Wedding Gowns For Jewish Brides
We'll Miss Your Humor, Blanche Devereauxby
Welcome to Air Chance
Welcome To The 'Matsliakhdik"* Employment Agency...Press "Eyns"
Welcome To The Nostalgia "Bukh" Club
Wendy Wasserstein, R.I.P.
Welcome To Cuss-free "Vokh" (Week)
Whass-up With Stuff White People Like?
What's A Nice Jewish Boy Like Jason Shelowitz Doing Telling People What To Do?
What, Me Worry?
What To Do When "Hungerik"* Guests Arrive Unexpectedly: Take The Advice Of The Late Sam Levenson
What Should We Do With The Former "Sheyn" Women?
What Would The Cleaver'S ("Leave It To Beaver") Think Of Medicine Today?
What? You Haven't Read Garrison Keillor's Yiddish Dictionary...with 6 Pages Devoted To "Oy Veh" Alone?
When All Else Fails, Take A "Dreml" (Nap)
Why Is This Service Different From All Other Services?
Will The Economic Stimulation Payment Result In A "Tsunami Of Tsoris" For The Consumer?
Who is "Der Tate?"
Who Is Mrs. Adler...and Why Is She At Our Passover Seder?
WI-FI Squatters Are "Umetum"
Wild Bloy Yonder
Will Shortz Knows A "Bisl" Yiddish
Wills, Clauses & Other "Narishkayt"*
Wifely Duties
Words To Give You A "Likhtikhn Shmeykhl"
Writer, Dave Barry, Visits Israel... And What Did He Have To Say?


Writing for Yiddish Publications

___________________________________________
Marjorie Gottlieb Wolfe is the author of
two books: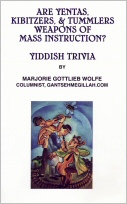 "Yiddish for Dog & Cat Lovers" and
"Are Yentas, Kibitzers, & Tummlers Weapons of Mass Instruction? Yiddish
Trivia." To order a copy, go to her
website: MarjorieGottliebWolfe.com

NU, what are you waiting for? Order the book!


Site Designed and Maintained by
Haruth Communications