by
Marjorie Gottlieb Wolfe



Syosset, New York
STORIES THAT BEGIN WITH THE LETTER
G

G is for Gonif
Gaffe Prone Biden Uses The "S" Word--"Shylock"
Garrison Keillor Is About To "Tsuriktsien Zikh"- Retire, And That'S "A Sheyn Gelekhter"- nothing To Laugh About!


Gender-Segregated Swimming Hours


Generous—With A Capital "G"
Genug Iz Genug
Getting A "Get" Shouldn't Involve Torture
"Getting On"--a Workplace Comedy. Is It Just The Right "Retsept" (Prescription)?
Gevald! (Help!) I'm Suffering From A.A.A.D.D."
"Gevalt! My Child Is Being Bullied"
"Gevalt" -- My "Zun" Is Being Bullied
"Gezunthayt Iz Beser Vi Krankhayt" (Health is better than illness)
Give A "Geshrai"--a Shout: Mahjongg Game Can Cause Epilepsy
Give Me Just A Plain "Shepsene Riplekh"
"Gliklekh" (Happiness) Is A Clean Desk
Go Figure
Go To The Movies...and Then Ess, Ess/Eat Eat
God can Create a Woman From a Rib, but can he make the Perfect Brisket? Brisket Stories, Humor, and Advice
God Is Calling You...But Probably Not On Your "Tselularer Telefon"


The Golden Girls Are Hot, Again


Good Financial Cents


Goodbye Chicken Soup And "Gehakhter Leber" (Chopped Liver); Hello, Chase Bank
"Got" Speaks To Me From Billboards
Gotenu (Dear God) What Should We Do With Former "Krassavitseh" (Beautiful Women)?
Gracie Allen for President of a Third Party -- "Der Khidesh" Party
Grads: Prepare To Fail; Say It Out Loud


Graduation 2006
Great Moments In Shopping History
Greetings from camp "Etiket"
Greetings From Camp "Wannacomehome"
Greta Friedman's Iconic Kiss


Grois Fargenign (great pleasure)
"Groys Heym" Or Third "Beybi"? That's A Foolish Question!


"Groys" Words
Guthartsikayt
"G'vald!" (Help!) My Son's In A "Quarterlife Krizis"
Gvald! I'm In A daze of InTAXication

___________________________________________
Marjorie Gottlieb Wolfe is the author of
two books: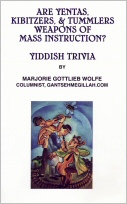 "Yiddish for Dog & Cat Lovers" and
"Are Yentas, Kibitzers, & Tummlers Weapons of Mass Instruction? Yiddish
Trivia." To order a copy, go to her
website: MarjorieGottliebWolfe.com

NU, what are you waiting for? Order the book!


Site Designed and Maintained by
Haruth Communications