GRADUATION 2006
by
Marjorie Gottlieb Wolfe



Syosset, New York
At graduation, we all "shep naches"--draw pleasure or satisfaction. Molly Katz ("Jewish As A Second Language") wrote, " College is a place where children are sent after high school to get impressive decals for the family car."
Be "dankar" (thankful) that Kermit the Frog, dressed in a custom-tailored cap and gown, was not invited as your commencement speaker. Perhaps you were hoping to hear The Daily Show's Jon Stewart, or Bob Newhart. Newhard told Loyola Marymount grads "[As a commencement speaker] you don't have to be intelligent, you just have to create the impression. This can usually be accomplished by [making] a reference to Kafka, even if you've never read any of h is, or her, works." Or, perhaps you'd like to hear Bill Cosby speak. He told the graduates at Bryant College, "You guys are in deep trouble and you gotta face it. You don't have a job. You don't know how to look for a job. You don't know where the job is. McDonald's doesn't mind if you were a math major." I've just finished reading a wonderful " bukh" by Francine Prose, "A Changed Man." Toward the end of the book, Bonnie Kalen, a divorced single mother and a devoted believer in Brotherhood Watch, a human rights foundation, is invited to give the graduation speech at a local high school. The chorus sings a wrenching version of " Bridge over Troubled Water" and the awards and diplomas are distributed. Bonnie is introduced as a woman "working to make the world a better, safer, more caring place." Bonn ie walks over to the podium and says, "Change is the one thing--the only thing--you can count on. Nothing stays the same. And the thing is, you can't be prepared. It's not only human nature, it's the nature of the universe. Right now, you kids think you'll always be young. If your parents ("tate-mame") are together, you think they'll stay together ("tsuzamen"). You think everything's going to continue pretty much on track. But I promise every one of you. I can guarantee it. Nothing's going to be anything like it is today ("haynt")." The Yiddish word meaning "to change" is "baytn." At the 112th Commencement Exercises of The Jewish Theological Seminary, Dr. Ismar Schorsch, Chancellor, gave the Commencement address. This was Dr. Schorsch's last year at the Seminary; Prof. Arnold M. Eisen will take over the positi on. " Baytn!" Dr. Schorsch told the graduates, "...I believe in the wisdom of living life from the end. Is that not the salient lesson of the High Holy Day season: to remind ourselves of our mortality and to urge us to make the most of the days allotted us. Someday when I will meet the founders and shapers of the Jewish Theological Seminary in the academy on high, will I be able to convince ("aynredn") them that I was a good steward of their legacy? Will they say of me as we say of Abraham each day in our prayers, " And you, God, found him at life's end to have been unswervingly faithful ("getray") to your vision?" And, finally, remember what Richard A. Moran wrote ("Cancel the Meetings, Keep the Doughnuts"), "Real change and success will happen when you hear: "I like it"; " I'll use it on the job"; "I see a change because of it"; and "There's a dollar return in it."
___________________
When Marjorie Gottlieb Wolfe graduated from New York University, the tuition was $25 a credit.
home
___________________________________________
Marjorie Gottlieb Wolfe is the author of
two books: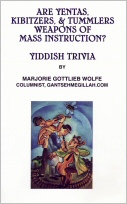 "Yiddish for Dog & Cat Lovers" and
"Are Yentas, Kibitzers, & Tummlers Weapons of Mass Instruction? Yiddish
Trivia." To order a copy, go to her
website: MarjorieGottliebWolfe.com

NU, what are you waiting for? Order the book!


Site Designed and Maintained by
Haruth Communications