by
Marjorie Gottlieb Wolfe



Syosset, New York
STORIES THAT BEGIN WITH THE LETTER
K

Kaledzh (College) Students Need Mental Health Centers
"Kaledzh" Graduation
Keep Your "Gopl"
Keeping The School Superintendent "Gezunt" (Healthy)
Kids And Adults Talk To God
"Klastsimer" Conversations
Klore Diburim - About Hospitals
"Klug" Women Know Their Place
"Kredit" (Credit) Humor
Knish "Krizis"
'Kompyuter' Dating Services Fixer Who Do Your Own Thing
"Kritikirn" (To Criticize)
"Kumzits" (Get Together) See "Pan Am" - '60s Airline Style
"Kvalitet" Time Is it more than "Tot Shabbat" or Gymboree?
"Kvitlach...and Stories From The Western Wall"
"Kvetch" Rhymes With "Stretch"

___________________________________________
Marjorie Gottlieb Wolfe is the author of
two books: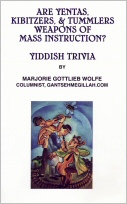 "Yiddish for Dog & Cat Lovers" and
"Are Yentas, Kibitzers, & Tummlers Weapons of Mass Instruction? Yiddish
Trivia." To order a copy, go to her
website: MarjorieGottliebWolfe.com

NU, what are you waiting for? Order the book!


Site Designed and Maintained by
Haruth Communications