KNISH "KRIZIS"*


by
Marjorie Gottlieb Wolfe



Syosset, New York

*In Yiddish, the word for crisis is "krizis."
Knish is a Yiddish word that was derived from the Ukrainian or Russian "knysh."
They are baked or fried pockets of dough, filled with potato, kasha, cheese,
spinach, blueberries, and sometimes meat scraps from the deli.
Have you heard this joke?
The newly wealthy ("raykh") Sheila and Stu Bernstein went on vacation ("vakatsye") to England. While they were in London, they decided to hire a butler and bring him back home to their mansion in Westchester.
One Sunday ("zuntik") morning they invited Mr. and Mrs. Cohen for breakfast
("frishtik"). As Mr. Bernstein left the house to get some fresh bagels, he asked the
butler to set the table for four. When Mr. Bernstein returned home he noticed that
the table was set for six. He asked the butler, "Why is the table set for six?" The
butler replied, "While you were out Mrs. Cohen called to say they were bringing the
Knishes."
The Oct. 23, 2013 headline read:
FIRE AT GABILA'S FACTORY
BLAMED FOR NYC
KNISH SHORTAGE
Yes, a fire at the Gabila's factory ("fabrik") is being blamed for a knish shortage in
New York City's five boroughs. Gabila's bills itself as the largest ("grest") maker of
knishes in the world ("di velt"). They claim to have sold more than 1.3 "bilyon"
knishes.
So, you can get pastrami at Ben's or Katz's Deli, but if you crave an old fashioned
Coney Island SQUARE knish, you've got "tsore"/"tsores" (trouble)!
A little history: Between 1880 and 1920, roughly 2 million Jews immigrated to the U.S. from Eastern Europe and Russia. They brought knishes to North America. The first knish bakery in America was founded in New York in 1910. Schimmel, a Romanian immigrant, began selling knishes from a pushcart ("shtupvegl") in 1890. In 1910 he opened the bakery (a knishery) on Houston Street. Harry Golden, the chronicler of Jewish America, pronounced Yonah Schimmel the "inventor" of the knish.
Milton Glaser and Jerome Snyder ("The Underground Gourmet") wrote in 1968, that "No New York politician in the last fifty ("fuftsik") years has been elected to office without having at least one photograph ("fotografye") showing him on the Lower East Side with a knish in his face."
And an academic paper by doctors at Albany Medical College described a patient's "rapid and unexpected recovery from acoustic trauma" after consuming a potato ("bulbe") knish.
Mayor Rudolph Giuliani's administration banned knishes from the hot dog carts in the mid 1960s. "Yeder nar iz klug far zikh." (Every fool thinks he's smart.)
Knishes may be round, rectangular, or square. Sizes range from those that can be eaten in a single bite hors d'oeuvre to sandwich-sized. Yonah Schimmel sells knishes for $3.50; Katz's Online Store charges $3.75 each for a square potato knish, $85 for a case of 30 kasha/round knishes. Zabar's sells hand-made, meal-sized knishes for $2.98 and 1 lb. of mini knishes for $9.98.
In Woody Allen's ("Whatever Works"), Larry David takes his Southern girlfriend on a date to Grant's Tomb...and then for a knish.
Many people have gone online to talk about a famous knishman in Brooklyn--Ruby.
Ruby sold knishes in the Bayview Projects, Canarsie, in the early-mid sixties.
Everyone remembered his most famous quote, spoken with a booming voice:
'GET YOUR HOT POTATO KNISHES,
I WANT TO SEND MY WIFE TO FLORIDA!
Years later, someone ran into Ruby in Brooklyn. He was asked, "Ruby, did you EVER send your wife to Florida?" Ruby laughed, and said, still in that booming voice,"Yeah, but she made me go with her."
Other Ruby quotes: As he drove around the streets he'd announce his arrival over a bullhorn:
"RUBY, THE KNISH MAN IS HERE.
THE MAIN DINING ROOM IS NOW OPEN."
"GET YOUR HOT KNISHES, ONLY A FEW HUNDRED LEFT."
"KNISHES, HOMOGENIZED, PASTEURIZED AND CIRCUMCISED.
A typical conversation with Ruby:
"Hey, Ruby, what kind of knishes do you have?"
"I have kasha or potato."
"I'll take potato."
"Sorry, all I have is kasha."
The writer is obsessed with "k" words--kishke, kasha varnishkes kreplach, kugel,...
AND KNISHES. She considers knishes "Jewish comfort food." Born in Rockaway Beach Hospital she spent her childhood years in Rockaway Beach, 68th Street, Arverne. Those were glorious days on the beach. The boardwalk, with its fireworks, was "vunderlekh." We played pinball, and games of skill for 5 cents to collect prizes Bottled soda and ice cream were 5 cents. We used to run up to the boardwalk for lunch; oh those delicious potato, cheese, cherry cheese and kasha knishes! They tasted like they came right out of a Jewish grandmother's oven. But, you don't have to be Jewish to eat knishes!
A nice Irish Catholic boy wrote on the Internet: "I remember as a kid in the 50s sitting on the beach and the knish guy coming by with a metal insulated container of knishes on a leather strap hung around his shoulder, hawking them in the blazing sun,
"GET YER RED HOT POTATO KNISH HERE."
My favorite knishes came from Mrs. Stahl's Knishes on Brighton Beach Avenue in Brooklyn. They closed in 2006. When we visited my mother-in-law who resided in B'klyn, we'd stop at Mrs. Stahl's for a dozen assorted knishes. Half were consumed in the auto on the way home to Syosset.
Michael Isaacson.com posted Mrs. Stahl's Knishes Secret Recipe.
YIELD: 8 SERVINGS
INGREDIENTS & MEASUREMENTS:
. DOUGH
2 C FLOUR
2 TBSP OIL
1 TSP BAKING POWDER
2 EGGS
1/2 TSP SALT
4 TBSP WATER
FILLING:
3 TSBP VEGETABLE OIL OR CHICKEN FAT
2 C PLAIN MASHED POTATOES
2 C FINELY CHOPPED ONIONS
PINCH SALT AND PEPPER TO TASTE
PROCEDURE:
To make the dough, combine flour, baking powder and salt in large bowl Mix well and add 1 T of oil, eggs and 2 tablespoons water. Gradually mix wet ingredients to flour. Knead dough until ball is formed. Knead dough, place in
oiled bowl, Let stand covered for 1 hour.
Preheat oven to 350 deg . Other 2 T of oil and cook onions until tender, add salt and pepper to taste Mix filling ingredients in bowl. Roll out dough and divide into thirds on a floured surface. Roll dough in jelly roll fashion and fill with mixture.

Note: Unbaked or baked knishes can be frozen and baked or reheated. Do not defrost. Unbaked knishes take about 45 minutes, baked 15 to 20 minutes.
"Ess Gezunt"--Eat in good health.
----------------------------------------------------------------------------
DAVID SAX ("Save the Deli") lists key Yiddish terms (So you don't sound like a schmuck):
Fress: To eat a lot. A big eater is a fresser. "He polished off two sandwiches and a knish. Quite a fresser."
___________________________________________
Marjorie Gottlieb Wolfe is the author of
two books: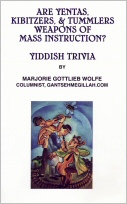 "Yiddish for Dog & Cat Lovers" and
"Are Yentas, Kibitzers, & Tummlers Weapons of Mass Instruction? Yiddish
Trivia." To order a copy, go to her
website: MarjorieGottliebWolfe.com

NU, what are you waiting for? Order the book!


Site Designed and Maintained by
Haruth Communications