by
Marjorie Gottlieb Wolfe



Syosset, New York
STORIES THAT BEGIN WITH THE LETTER
H

Hail Caesar - The Yiddish Guide to Sid Caesar
Hair The Long And Short of It
Halloween, 2014


Hanging Out With The Pope "Ver Volt Dos Geglaibt"? (Who Would Have Believed It?)
Hanukkah From A (Adam Sandler) To Z ("Zayde")


Hanukkah With Stephen Colbert - And Other Interesting Facts


Happiness ("Glik")
Happiness is Having a "Shtele"
Harry Hamlin: "Shemen Zolstu Zich In Dein Veiten Haldz!" You Should Be Ashamed Of Yourself!


Harry Potter Likes Chocolate Eclairs, Chocolate Gateau, Cockroach Clusters, & Exploding Bon-bons; I Like "Chocolitvak"
Harvard Shmarvard: In 2005 It's Trump University
Hatchet Man At-large "Shreklekh"
Have Yarmulka...will Travel: Join The Peace Corps
Heaven or Hell


Helen Thomas, Shame On You
Hello, Bobe; Hello, Zeyde
Help! I'm Into "Shtick Lit"
Help! I'm Suffering From "Siddur Finger"
Help! I'm Suffering From "Transient Smartphone Blindness"


"Heymish"
Hillary Clinton Appears To Be Getting Taller: Is This A "Bubbeh Meisseh"?


Hillary Clinton Says She And Bubba Had To Struggle
Hillary's Had "Lungen-Entsindung" "Genug Iz Genug"


Ho Ho Ho Santa's Got His Purell!
Holiday Sermons For Those Who Suffer From "Spiritual Attention Deficit Disorder"


Holiday Shopping/Gift Giving From 1842 - 2014


Holy Moses! Pope Benedict Smacks Down On "Shiker" Drinkers, Speeding, And In-car "Zind"
Home for 'Der Zumer
Honk If You're On The Way To The Gym
"Hots Rakmones Yidishe Hertser" ("Have Compassion, Jewish Hearts")
How Are You "Doin"?
How Much Do You Know About Your "Tate-Mame," "Elter-Bobe" And "Elter-Zeyde"?
How To Avoid Putting "Der Oylem" (The Audience) To Sleep
How to Redn Deli
How I Learned a 'Bisl' Yiddish by Reading a Cookbook
How's Ed Koch Doin'? Great At 85!
How Wasteful The "Elter" Generation Was
Humorous Newspaper Corrections


Humoristish (Humorous) Stock Market Terms
Hummus......or Prozac? Putting The "U" In Hummus

___________________________________________
Marjorie Gottlieb Wolfe is the author of
two books: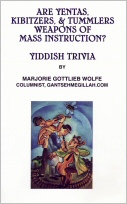 "Yiddish for Dog & Cat Lovers" and
"Are Yentas, Kibitzers, & Tummlers Weapons of Mass Instruction? Yiddish
Trivia." To order a copy, go to her
website: MarjorieGottliebWolfe.com

NU, what are you waiting for? Order the book!


Site Designed and Maintained by
Haruth Communications