by
Marjorie Gottlieb Wolfe



Syosset, New York
STORIES THAT BEGIN WITH THE LETTER
B

Back To School, 2015 - 2016


Back To The Future Star Is Always Looking "Aroyf"
Balance
"Barimen Zikh" (To Boast Or Brag) Tevye--the Dairyman--loved To Boast
Barnes & Noble Here I Come!


Bashuldikn
BBQ Time
Be "Frayndlekh" to "Der Shrayber"
Be "Frayndlekh" To Editors And Writers Month
Be Fruitful And Multiply
Becoming Dr. Ruth
Before JDate, Hurrydate, Match.com and Largefriends.com, Singles Once Met at Garfield's
Bel Kaufman - We'll Miss You
Bert & Ernie Brought To You By The Letters H, C, And D...and The Number 8
"Beybi" (Baby) H" Is Coming
"Beybi" Einstein Is Not So "Klug" After All
The Big Megillah vs. Magilla Gorilla
Billy Crystal Says He's "Still Foolin' Em"
Billy Crystal, Your Home Looks "Mahvelous"
The Bintel Brief Is Back: Dear Esteemed Editor
Biz Hundert Un Tsvantsik Yor
Boomerang Kids
Booze News; Jews Love Whiskey
Botox Turns "Tsen"/"Tzen" (10) and Jewish women become "sheyn"
Bridge Stories
Bris/Mohel Humor
Brisket 'N' Bean Burritos…And Other Outrageous Food Mashups


Broken-ness


Brooklyn, Schmooklyn! See "Brighton Beach Memoirs"
Brooklynese/Brooklyn Memories
"Brust"-Feeding Bullies
Bubbles--You Made Great "Muzik" (1929-2007)
Bury The "N" Word? "Narrishkayt"
Business I Learned In Sleep Away Camp
The Business Owner's Guide to Yiddish
B.Y.O.C. (Bring Your Own Chopsticks), Disposable Chopsticks, and Chopsticks "Etiket"

___________________________________________
Marjorie Gottlieb Wolfe is the author of
two books: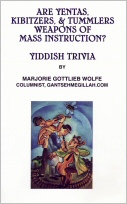 "Yiddish for Dog & Cat Lovers" and
"Are Yentas, Kibitzers, & Tummlers Weapons of Mass Instruction? Yiddish
Trivia." To order a copy, go to her
website: MarjorieGottliebWolfe.com

NU, what are you waiting for? Order the book!


Site Designed and Maintained by
Haruth Communications