by
Marjorie Gottlieb Wolfe



Syosset, New York
STORIES THAT BEGIN WITH THE LETTER
R

Rabbi Avram Belinsky, We'll Miss You
Read My Lips: When Times Get Rough, The Women Buy "Lipnshtift"
Reading, Writing & Rugelach
Real Men Do Cry
Reality "Televisye'* With Hummus
Redemption
Redn Iz Billik? (Talk is cheap?)
"Refudiate"? Should We Show "Rakhmones For Sarah?
Remembering Doris Roberts


Remembering The Humor Of Arnold Fine (1924 - 2014)
Remembering Wayne W. Dyer, "The Father Of Motivation" 1940 - 2015


Reminiscing: "Es gefelt mir"
Replacing Negative Yiddish Words With Positive Words
Rest in Peace Bea Arthur
Reverend Joan Rivers
RIP, Morty Seinfeld You Were A 'Richtiger Mensch'
Roadside Memorials And Lollipop Markers
Robin Williams...We'll Miss You!
Robot Redford, Humphrey Robot, & Mr. Millennia
Romance Scams, Lottery Scams, Microsoft Tech-Support Scams......and "Di Zeyde-Bobe Scam"
Romney's Remarks On The "Orem" Poor/Needy
Rules/Advice/Quotes For The "Fresser"

___________________________________________
Marjorie Gottlieb Wolfe is the author of
two books: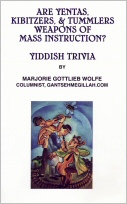 "Yiddish for Dog & Cat Lovers" and
"Are Yentas, Kibitzers, & Tummlers Weapons of Mass Instruction? Yiddish
Trivia." To order a copy, go to her
website: MarjorieGottliebWolfe.com

NU, what are you waiting for? Order the book!


Site Designed and Maintained by
Haruth Communications