"KALEDZH" GRADUATION
by
Marjorie Gottlieb Wolfe



Syosset, New York
Thousands of proud "tate-mame" (parents) show up at "kaledzh" (college) graduations this "khoydesh" (month). They're "kveln" (beaming with joy).
My husband and I attended one graduation at a SUNY (State University of New York) college.
Being a rather outgoing "froy" (woman), I said to one father seated next to me, "You appear to be very 'glkilekh' (happy) today."
"I sure am," he quickly answered. "We've invested 'fuftsik toyznt dolars" ($50,000) in Matthew's education, and he's the first one in our 'mishpokhe' (family) to graduate from 'kaledzh.' Nu, it took him 'finf' (5) years."
The "muzik" from Pomp and Circumstance could be heard in the background as the procession began.
"Which one in line is Matthew?" I asked.
"He's not here," the father replied. He returned to his dorm when Sarah Ferguson, Duchess of York, started to make the commencement speech."
"What?" I asked.
"No, not James Watt! Sarah Ferguson, the Weight Watchers spokesperson."
"Can't say I blame him. Another 'universitet' (university) got ROBOT REDFORD, a 4-foot-tall fiberglass assemblage, to deliver the commencement address...and this SUNY got Sarah Ferguson!"
"That's a pity," I said. "I guess you've been a bit 'dershlogn' (mentally depressed)."
"Not at all. He originally planned to walk up to the podium carrying a 'groys' (large) sign which read,
THIS GRADUATE LOST "TSVEY HUNDERT" (200) LBS.
BY GETTING A HAIRCUT;
I GOT MY 'TATE' OFF MY BACK!
"So, we're 'dankbar' (grateful) to be spared 'di farlegnhayt' (the embarrassment)."
"What was Matthew's major while he was at State?"
"He orginally majored in Urban Local Government (AKA "Slums and Bums"), changed to World Prehistory (AKA "Stones
and Bones"), changed to "Limudey Koydesh" (religious studies), and then considered a career as a 'shokhet' (ritual slaughter). He finally graduated with a degree in 'Heym Ekonomik' (Home Economics)."
"Yes," the father added, "My son, the henhussy (sexist term for a man who does housework)."
"What is he doing in September?"
"He's going to graduate school right here at State; he's been offered a part-time teaching job."
"Mazl-tov!" What courses will he be teaching?"
"Nutrition and Starvation"

"Gourmet Canoeing" - a class that combines canoeing techniques with stops at the local waterfront restaurants

"How to Convert Your Family Room Into a Media Center"

"Cultivating Viruses in Your Refrigerator"
"And what's he doing for the 'zumer' (summer)?"
"He's got a job at gazoontite.com, as an online customer service rep. (1-800-4MY-NOSE)."
"Very 'interesant' (interesting)," I replied.
"Yes, this company sells a line of products to help you reduce the allergins in the house.
Did you know there are over 1 'milyon' dust mites in the average 'matrats' (mattress)?
And did you know that 'gezunt' means healthy in Yiddish?"
"No. I take 'Actifederal Express' when I absolutely, positively, have to stop sneezing overnight. And my wife takes 'Mt. Sinus.' Used as directed, these tablets work miracles. (Cold remedies from Advertising Age.)"
"Well, it's nice talking with you," I said. "And, by the way, I follow the late Harry Truman's advice:
"I have found the best way to give advice to your children is to find out what they want and then advise them to do it."
"Zay(t) gezunt."
home
___________________________________________
Marjorie Gottlieb Wolfe is the author of
two books: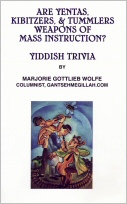 "Yiddish for Dog & Cat Lovers" and
"Are Yentas, Kibitzers, & Tummlers Weapons of Mass Instruction? Yiddish
Trivia." To order a copy, go to her
website: MarjorieGottliebWolfe.com

NU, what are you waiting for? Order the book!


Site Designed and Maintained by
Haruth Communications