"KLASTSIMER"* CONVERSATIONS


by
Marjorie Gottlieb Wolfe



Syosset, New York
*The Yiddish word for "classroom" is "klastsimer."
A "melamed" is a teacher on the elementary level.
In the May 2015 issue of NYSUT United Magazine, Kelly S. Dickson wrote a touching article for news & views titled, "dear TEACHER." Ms. Dickson knows that "seykhl iz an eydele zakh"--wisdom is a precious thing.
She writes:
TEACH ME
I forgot to take my medication this morning
TEACH ME
I speak English as my second language
TEACH ME
I have anorexia and bulimia
TEACH ME
My mom has cancer
TEACH ME
I have anger issues and cut myself
TEACH ME
I have not eaten
Now imagine that YOU'RE a "melamed" in a Jewish day school. What will you hear from your students?
TEACH ME.
My Shabbos APP is broken. (Note: A Shabbos App is a new and innovative app that enables Frum Yidden, currently unable to use a Smartphone, to enhance their Shabbos experience by using a Smartphone on Shabbos. Many rabbis are not pleased with the development despite the fact that we already have Shabbos elevators, Shabbos lamps, Shabbos crock pots, and Shabbos ovens.)
TEACH ME
"I have 'shpilkes.' I can't sit still." (He sits on pins and needles.)
TEACH ME
And feel free to contact me via my "tselularer telefon" (cell phone). "blitspost (e-mail), or "kompyuter" (computer).
TEACH ME
A joke! After a year away studying, a Yeshiva bocher comes home. His mother answers the door, and there he is, with his long beard and payess, a black wide-brimmed fur hat, a long black frock coat.
"Oy," his mother shouts. "Joe College!"
Source: Joel Siegel, "Lessons For Dylan"
TEACH ME
"HAK NIT KEYN TSHAYNIK."
(Don't be long winded and boring; don't get on my nerves.)
TEACH ME
My "bobbe" (grandfather) iz a sheyres-hapleyte Yid.
(My grandfather is a Holocaust survivor.)
TEACH ME
My mother has "der rak" (cancer).
TEACH ME
"Freg mir nit keyn kashes." (Don't ask me any questions.)
TEACH ME
"Zol ikh azoy visn fun tsores." (I'm not the least bit interested.)
TEACH ME
"Ikh darf es vi a lokh in kop."
(I need it--a course titled, ZOMBIES & GENDER IN POP CULTURE--like a hole in the head.)
TEACH ME
"Drey nit keyn spodik."
(Don't confuse me. Don't turn the cap around,)
TEACH ME
"IKH VIL NIT VISN FUN KEYN KHOKHMES."
(I don't want to hear any words of wisdom.)
TEACH ME
"I have 'a kop vi a ferd.'" (I'm really stupid. I have a head like a horse.)
TEACH ME
"I'M 'KLUG VI DER VELT.'" (I'm very smart; clever as the world.)
TEACH ME
"I'm 'a tsudreyter.'" (I'm a mixed-up person.)
TEACH ME
"Vos gikher, alts beser." (The faster, the better.) The SAT exam is next
week!
TEACH ME
"Me lebt a tog." (This is real enjoyment. One lives a day.)
TEACH ME
"Host du bay mir an avle." (So I made a mistake.)
TEACH ME
"I have my own 'vebzaytlekh." (I have my own website.)
TEACH ME
"I'm a WIKIPEDIA KID." (A student who has poor research skills and lacks the ability to think critically.)
TEACH ME
"but don't 'hak mir nit keyn tsaynik." (Don't talk nonsense to me--stop bothering me.)
TEACH ME
"I know that Yiddish is a combination of German and phlegm."
(Billy Crystal quote)
TEACH ME
"I'm taking 'valyum.'" (Valium)
TEACH ME
"...but please be a 'shpilmener'--a story teller."
TEACH ME
"Nu! So Dante de Blasio--Mayor Bill de Blasio's son-- got accepted at Yale University."
TEACH ME
"Vos hert zikh?" (What's up?) So, I've become a 'HIGHLIGHTER
ABUSER'--a student who tends to highlight almost every part of an academic text he or she is reading, thus defeating the purpose of highlighting in the first place."
TEACH ME
"Vos iz mit dir?" (What's wrong with you?)
"I'm suffering from CHALKTRAUMA!--the body's reaction to someone running his fingernails down the chalkboard."
TEACH ME
"I'm a GIFTED CHILD--a nice kid who came to school already reading, catches on quickly and looks alert when adults talk. A gifted child often brings pretty shells from Sanibel for the science corner." (Florence Miller definition)
TEACH ME
"Vos tut zikh?" (What's doing?)
"I don't need you to put a dab of honey on my learning slate. I already know that the sweetness of the honey is intended to be a symbolic foretaste of the sweetness and pleasantness of the study of the Torah."
TEACH ME
"Vos zogstu?" (What are you saying?)
I know that a "Levite" is NOT someone who wears jeans religiously.
TEACH ME
I believe in BIBLIOOSMOSIS--students learn while sleeping near books.
A student sleeping near the works of Plato suddenly leaped from his couch exclaiming, "Is the road from Athens to Theves the same as the road from Theves to Athens?"
TEACH ME
"but I remember what Rabbi Shmuley Boteach said: "Forget about grades--let our kids be kids. A generation of youngsters who live and die for grades at school is just as bad as youths who couldn't care less about grades."
(He points out that "our children are not special because they are the best, but simply because they are." "Our mantra to our children must not be:
BRING HOME AN "A," but rather 'ALL WE WANT TO KNOW IS THAT YOU WANT TO KNOW.")
-------------------------------------------------------------------------------------
MARJORIE'S FAVORITE BACK-TO-SCHOOL STORY:
Two fathers are having a conversation:
Dad #1.
"Hard to believe our kids are going off to "de universitet" (college).
Do you think things have changed much since we went to NYU in 1957 and paid $25 a credit?"
Dad #2.
"If they haven't, I'm borrowing a hundred grand for a four-year keg party."
___________________________________________
Marjorie Gottlieb Wolfe is the author of
two books: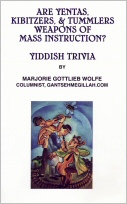 "Yiddish for Dog & Cat Lovers" and
"Are Yentas, Kibitzers, & Tummlers Weapons of Mass Instruction? Yiddish
Trivia." To order a copy, go to her
website: MarjorieGottliebWolfe.com

NU, what are you waiting for? Order the book!


Site Designed and Maintained by
Haruth Communications