GREETINGS FROM CAMP "ETIKET"*
*The Yiddish word for etiquette is "etiket"
by
Marjorie Gottlieb Wolfe



Syosset, New York
Oscar Wilde said, "The world was my oyster but I used the wrong fork." In Chaim Potok's book, "The Promise," we read, "A telephone is a mighty thing. It can also be a nuisance, but used wisely, it is a mighty thing." This book was written in 1969, long before the popularity of "der tselularer telefon" (the cell phone), "di kol-post" (voice mail), and the Internet.
Today, almost seven out of 10 people say they observe "grob" (rude) and infernal yakking on cell phones. There's a Yiddish expression, "Redn on a mos." It means to chatter without end (literally, to talk without measure). Cell phones now ring during synagogue services, wedding ceremonies, and theater performances. Imagine hearing the ring tones of, say, The William Tell Overture, as Tovah Feldshuh [as Golda Meir in "Golda's Balcony"] says, "A dank eich vos ihr seit geblieben Yidden." (Thank you for remaining Jews).
Protocol schools have been around for years and CEOs have been forking over megabucks to receive "etiket" advice. Now we've also got "etiket" camps for our " kinder" (children).
Shown below is a form letter which the owners of a Jewish "etiket" camp might use. A simple check mark by the camper is all that's required.
CAMP "ETIKET"
Dear "Muter" (mother)
Dear "Tate" (father)
Dear "shvester" (sister)
Dear "bruder" (brother)
Dear "zeyde-bobe" (grandparents)
Dear __________
I've completed my course in:
The Laws of Tzedakah
How to yak on the "tselularer telefon" w/o annoying anyone
Remedial Fork and Knife
Public Behavior
Laundry Room "Etiket"
"Hant" (hand) Shaking
Formal Napkin Folding
"Tish" (table) Setting
Thank You Notes
I
Have learned to use a "lapkin"--a cloth napkin
Can spell "etiquette" Know the Yiddish word for napkin: " servetke."
Don't talk or play with food in my "moyl" (mouth)
Sleep on Pratesi 300-thread-count linens
Keep my "telefon" conversation G-rated
Have read the "Dummies Guide to Jewish Etiquette"
Have learned that "zup" (soup) should be seen but not heard
Know that one out of every 3 residents in the U. S. now own a "tselularer telefon"
There's a website for people to vent against cell phone owners
I've learned that
When someone says "pass the biscuits," one should pass the entire plate
In some homes, youngsters have "tsvey" (2) choices of food: Take It or Leave It
One should never use CALLER ID to dodge a mother's phone call
You're a "homemaker"--not a housewife-- Mom
Some people suffer from Starbucks' Line Anxiety Syndrome (SLAS)
One cannot get pneumonia from standing in front of the open "fridzhider" (refrigerator)
Dennis the Menace never said "Please"
CDs make a "vunderlekh" Hanukkah gift; you never have to refrigerate them
One should remove the fortunes from fortune cookies before eating them
One should never call a pediatrician at 3 a.m. and ask, "Did I wake you?"
Proper People don't say "ZIP IT, PAL,"
"corpse reviver" (strong drink), or "handcuff" (engagement ring)
One should never use "tooth twine" (AKA dental floss) in public
At a health club, it is common courtesy to wipe down a machine or weight bench before leaving
At Motel Quarter to Six, they leave a flashlight on for you
One never asks for a "slice" of "demi-tasse."
One pair of Jou Jou designer jeans is not considered a mini load
A "squeeze" is a girlfriend or boyfriend
One should never ("keyn mol nit') call Collect on Mother's Day
"Rachmones" means compassion for someone worse off than yourself
The normal proper toilet seat etiquette state of the toilet seat is "arop"--DOWN"
Humans are the only species that do favors. Animals don't do favors. A lizard doesn't go up to a cockroach and say, 'Could you do me a favor and hold still, I'd like to eat you alive.'" (from Jerry Seinfeld)
A "mensch"means a kind, caring person--and you don't have to be Jewish to be one.
_____
Marjorie Wolfe's favorite definition of" manners" (provided by Henry Beard) is as follows: Knowing which "gopl" (fork) to use to jab your little brother or sister with.
___________________________________________
Marjorie Gottlieb Wolfe is the author of
two books: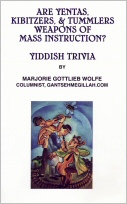 "Yiddish for Dog & Cat Lovers" and
"Are Yentas, Kibitzers, & Tummlers Weapons of Mass Instruction? Yiddish
Trivia." To order a copy, go to her
website: MarjorieGottliebWolfe.com

NU, what are you waiting for? Order the book!


Site Designed and Maintained by
Haruth Communications