GOTENU (dear God) WHAT SHOULD WE DO WITH FORMER
"KRASSAVITSEH" (BEAUTIFUL WOMEN)?

by
Marjorie Gottlieb Wolfe



Syosset, New York
The Yiddish word for beautiful is "sheyn."
A pretty girl is a "sheyn meydl" and "sheyn vi di zibn velm" means "beautiful as the seven worlds."
There's a song titled, "Sheyn Bin Ikh Sheyn," which was recorded on the Vangard record. The lyrics:
Sheyn bin ikh sheyn
Sheyn iz mayn nomen
Vegt men mir
shidikhim
Fun same rabonim
Rabonishe toyre
Iz dokh zeyer groys -
Vin ikh bay mayn
mamen
A lihtige royz
Pretty am I, pretty. Pretty is my name. They propose the finest of matches for me. Even to a rabbi. One who knows the Torah is very important - And now my mother thinks of me As a blooming rose.
The newspapers have been reporting about a "vebzayt" (website) named BeautifulPeople.com. This site has been described as an "elite online club, where every member works the door." To become a member, applicants are required tobe voted in by existing members of the "heypekh" (opposite) sex. Should applicants secure enough positive votes from members, they will be granted a full membership.
BeautifulPeople.com has become a global phenomenon.
The site claims to have a strict ban on "ugly people" ("mies"/mieskayt"). They took drastic action after users posted photos of themselves celebrating Christmas [2009] and the New Year - revealing that they had "let themselves go."
"Alle meiles ainem iz nita bei kinem."
(There is no such thing as a perfect person.)
The headlines read:
BEAUTIFULPEOPLE.COM AXES 5,000 MEMBERS FOR GAINING WEIGHT.
Most of those expelled came from the U.S. and Canada, but nearly 900 were from Britain.
Greg Hodge, the managing director, said, "Every year we see that some of our members from Western cultures eat and drink to excess over the holidays and clearly their looks suffer." He talks about "festive fatties," and hopes these members will be back after shedding the festive pounds.
In an attempt to soften the blow to those who have been given the boot, the website sends details of fitness centers where they can work off their holiday excesses.
Robert Hintze, founder of BeautifulPeople. com, said, "Letting fatties roam the site is a direct threat to our business model and the very concept for which BeautifulPeople. com was founded." Is this a witch hunt for "zaftik" people? What happened next? The dating website, "CurvyBlackBook.com" offered these rejects a "umzist" (free) one-year membership (a $120 value). CurvyBlackBook.com says that they want these former big and beautiful members to know they have a place for meeting other like-minded individuals on its website. Mandy Tompkins said that CurvyBlackKBook.com realizes that beauty comes in all shapes and sizes.
I wonder if both websites agree with these Yiddish expressions:
"Me darf nit zein shain; me darf hoben chain."
(You don't have to be pretty if you have charm.)
"Chain gait iber shain."
(Charm is better than beauty.)
"Az alleh zuchen shaineh kalles, vu kumen ahin di miesseh maidlech?"
(If everybody looks for pretty brides, what's to become of the ugly girls?)
"A maidel darf zich putsen far fremdeh un a veibel far'n aigenem man."
(A maiden should pretty herself for strange bachelors and a young wife for her own husband.)

___________________________________________
Marjorie Gottlieb Wolfe is the author of
two books: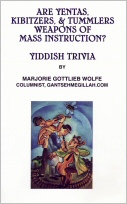 "Yiddish for Dog & Cat Lovers" and
"Are Yentas, Kibitzers, & Tummlers Weapons of Mass Instruction? Yiddish
Trivia." To order a copy, go to her
website: MarjorieGottliebWolfe.com

NU, what are you waiting for? Order the book!


Site Designed and Maintained by
Haruth Communications