GENEROUS—WITH A CAPITAL "G"


by
Marjorie Gottlieb Wolfe



Syosset, New York
Note: The Yiddish word for "generous" is "breythartsik."
"Generosity" is "vatrones."
"Charity" is "tsdoke."
"Very wealthy" (slang) is "Ongeshtopt"; ongeshtopt met gelt"
This Yom Kippur, my synagogue, the Midway Jewish Center, left a Kol Nidrei pledge card on my seat. Members were asked to pledge from $54 to $5,000 or to increase their 2015 pledge by 10%, 20% or 30%.
Rabbi Barry H. Block gave a sermon on 2/27/98 titled,
"Giving Money or Giving Time: The Greatest Jewish Value." He said, "Judaism does not establish a fixed hierarchy that places giving time over giving money, or that values financial contributions over volunteerism. Both are necessary in order to maintain a viable community, to care for the needy, and to respond to calamity…Both time and money are required of a Jew who would fulfill the commands of our God."
Jews in their 20s and 30s said they are less likely to give to Jewish organizations than are their parents' and grandparents' generations. Shawn Landres wrote, "Getting married and having children will lead to levels of increased giving to organizations."
What do we know about the philanthropic practices of celebrities?
In June 2010, the Giving Pledge campaign was formally announced and Bill Gates and Warren Buffett began recruiting members. The Giving Pledge is a campaign to encourage the wealthy people of the world to contribute their wealth to philanthropic causes. The pledge is a moral commitment to give, NOT A LEGAL CONTRACT.
By June 2016, 154 individuals and/or couples are listed as pledges.
Included on the list is Michel Bloomberg, Larry Ellison, Ronald Perelman, David Rockefeller, Edgar M. Bronfman, Sr., Carl Icahn, and others.
In 2007, Sheldon Adelson pledged $25 million to Birthright Israel. Birthright, a not-for-profit educational organization, sponsors a FREE 10-day heritage trip to Israel. The organization is open to young adults of Jewish heritage from age 18-26.

A study shows that one out of four Birthright participants ends up marrying another Birthright participant.
(Source: Leonard Saxe of Brandeis University)
Donald Trump claims to have given large amounts to charities, often anonymously. However, without access to his income tax return, it's difficult to know what his contributions were.


Herbert Hoover was the most philanthropic person to have run for president in modern times. He led humanitarian relief efforts in Belgium, Russia, and other countries during and after WW I.


Bill Clinton revealed that he and his wife had claimed charitable tax deductions for donations of used underwear ("gatkes") and ripped clothing.


VP, Joe Biden, was scrooge-like. In the decade before 2008, while he was a senator and his wife taught college, the Bidens donated a minuscule portion of their com- bined income. He says that he contributed a lot of his TIME to charities. In 2011, the Bidens' rate of giving reached a mere 1.5% of income.
Source: How Generous Are the Candidates? Should Voters Care? by Suzanne Garment and Leslie Lenkowsky, WSJ


Michael Douglas donated $1 million [2004] to the construction of a new theater to be named after his father, Kirk Douglas. The younger ("yinger") Douglas said, "Knowing how much theater meant to my father—as he got his start in the theater—I was pleased to make this gift in his honor."


Kirk Douglas and his wife, Anne, donated money to improve the Harry's Haven Alzheimer's Unit at the Motion Picture & Television Fund retirement home and hospital in Woodland Hills, CA.


Jerry Seinfeld donated his "Puffy Shirt" to The Smithsonian. He also supported Memorial Sloan- Kettering, Autism Speak, Stand Up For A Cure", Good+ Foundation and more.


The late Elie Wiesel and his wife, Marion, established the Elie Wiesel Foundation for Humanity soon after he was awarded the 1986 Nobel Prize for Peace. The Foundation operates Beit Tzipora Center for Study and Enrichment in Israel. The funds educate the Ethiopian- Jewish community and give Ethiopian-Israeli students the opportunity to participate fully in Israeli society.


Billy Crystal donated $1 million to his hometown, Long Beach, New York, to help the residents recover from Hurricane Sandy.


Irwin M. Jacobs, the founder and former chairman of Qualcomm is a major donor to Jewish philanthropies in Southern California. Reportedly, he donated $24 million in 2009 alone to a fund managed by the Jewish Community Foundation of San Diego. He donated $10 million, adding to an earlier gift of $20 million, to San Diego's new Central Library. Earlier gifts included $100 million to save the San Diego Symphony and $185 million to the Univ. of Calif. at San Diego.


Mark Zuckerberg and his wife, Priscilla Chan, promised to spend $3 BILLION of their fortune over the next decade to manage, cure or prevent all diseases by the end of the century.

---
MARJORIE WOLFE shares quotes by Anne Frank and
Sam Levenson:

Anne Frank (Diary of Anne Frank; the play):
"No one has ever become poor by giving."

Sam Levenson ("In One Era & Out the Other")
"Remember, if you ever need a helping hand, you'll find one at the end of your arm." "As you grow older, you will
discover that you have two hands: one for helping yourself; the other for helping others."
---
___________________________________________
Marjorie Gottlieb Wolfe is the author of
two books: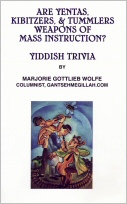 "Yiddish for Dog & Cat Lovers" and
"Are Yentas, Kibitzers, & Tummlers Weapons of Mass Instruction? Yiddish
Trivia." To order a copy, go to her
website: MarjorieGottliebWolfe.com

NU, what are you waiting for? Order the book!


Site Designed and Maintained by
Haruth Communications