"GROYS" WORDS
by
Marjorie Gottlieb Wolfe



Syosset, New York
"Der kinder-gorten" students were trying very hard to become accustomed to the "ersht" (first) grade. The biggest hurdle they faced was that "der melamed" insisted on NO "beybi" talk!
"You need to use 'groys' (big) people words," she was always reminding them.
She asked Jonathan what he had done over"der sof-vokh" (the weekend). "I went to visit my 'bobe.'"
"No, you went to visit your GRANDMOTHER. Use 'groys' people words!"
She then asked Mitchell what he had done. He said, "I took a ride on a choo choo."
She said, "No, you took a ride on "der tsug" (the train), the Long Island Railroad. You must remember to use 'groys' people words."
She then asked little Alex what he had done. "I read a 'bukh,' he replied. That's 'vunderlekh!' the teacher said. "What 'bukh' did you read?"
Alex thought real hard about it, then puffed out his 'brustkasn' (chest), with great pride, and said, "Winnie the SHIT."
Yiddish has many "groys" words. Can you match the words in Column 1 with the correct definition in Column 2? Good luck!
COLUMN 1
COLUMN 2
1. "krank-shvester"
2. "shkheyneshaft"
3. "farhandlung"
4. "hakhnose-shtayer"
5. "gastgeberin"
6. "harts-brenenish"
7. "gevonynhayt"
8. "tsufridnkayt"
9. "eydlshteyn"
10. "fayer-lesher"
11. "farlegnhayt"
12. "unterhern zikh"
13. "tseykhenen"
14. "mekhaye zayn"
15. "fledermoyz"
16. "rikhtn zikh
17. "funanderklaybn"
18. "kishef-makher"
19. "shmirekhts"
20. 'bislekhvayz"
21. "makhn khoyzek fun"
22. "shpayzkamer"
A. hostess
B. bat (animal)
C. analyze (to)
D. lotion
E. mock (to)
F. eavesdrop
G. fireman
H. habit
I. pantry
J. to sketch/draw
K. gratification
L. heartburn
M. neighborhood
N. magician
O. gem
P. to delight
Q. little by little
R. income tax
S nurse
T. negotiation
U. embarrassment
V. anticipate
ANSWERS:
1. S
2 M
3. T
4. R
5. A
6. L
7. H
8. K
9. O
10. G
11. U
12. F
13. J
14. P
15. B
16. V
17. C
18. N
19. D
20. Q
21 E
22. I
___________________________________________
Marjorie Gottlieb Wolfe is the author of
two books: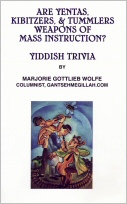 "Yiddish for Dog & Cat Lovers" and
"Are Yentas, Kibitzers, & Tummlers Weapons of Mass Instruction? Yiddish
Trivia." To order a copy, go to her
website: MarjorieGottliebWolfe.com

NU, what are you waiting for? Order the book!


Site Designed and Maintained by
Haruth Communications