IT'S NO TRICK: FEWER BABIES BORN
ON HALLOWEEN
by
Marjorie Gottlieb Wolfe



Syosset, New York
Halloween is here and researchers suggest that mothers avoid going into labor on Halloween because it is a NEGATIVE holiday.
"Di frage" (The question): Does the avoidance have anything to do with trick-or-treating? If a pregnant ("shvanger") woman has "elter" (older) children, could the avoidance be out of a desire not to disrupt a child's celebration of the holiday?
Some people think it's cute to have a "beybi" (baby) on a holiday, while others not so much.
Now take Valentine's Day. This is a more positive celebration. It's easier to find a substitute caregiver if the parents are off to "der shpitol" (the hospital). Just set a card on "di kikh" (the kitchen) table, add some heart-shaped chocolates, and everyone is "gliklekh" (happy).
Anecdotal evidence suggests that parents want to avoid giving birth on any holiday to allow "dos kind" (the child) to have his/her own day, rather than share it with "der tsibur" (the community/public).
Consider these headlines:
SANTA BABY: HAVING A BABY ON CHRISTMAS EVE ISN'T ALL TIDINGS OF COMFORT AND JOY (Baltimore City Paper)
HAVING A BABY ON CHRISTMAS? GO AHEAD AND CRY.
WOULD YOU SCHEDULE YOUR C-SECTION ON A MAJOR HOLIDAY?

On Oct. 25, 2011, Anahad O'Connor, [The New York Times] reported on a study conducted at the Yale School of Public Health. They reviewed millions of birth certificates and found a 5.3% dip in spontaneous births on Halloween. This may suggest that a mother's mental state may play a role in when she goes into labor. There's also a 16.9% drop in Caesarean births on Halloween. Perhaps there's a resistance to start labor around the festival ("der yontev") of the "toyt" (dead).
The researchers at Yale also studied 1.7 million births that occurred within a week of Valentine's Day over a period of 11 years. What were the findings? There was a 36% spike in spontaneous births on Valentine's and a 12.1% rise in Caesareans.
The next question: If you do have a "beybi" on Halloween, would you choose a holiday- related name?
Robin Elise Weiss has some suggestions: (for Halloween)
Carrie (of Stephen King's novel fame) Morticia (from The Addams Family) Casper (as in Casper the friendly ghost) Jack (as in Jack-o-lantern)
(for Valentine's Day)
"Doved" (Hebrew for Dove)
"Ehud" (Hebrew for love)
"Valentino" (Latin for love)
"Romeo" (romantic character from Romeo and Juliet)
"Beau" (French for handsome, sweetheart)
-------------------------------------------
Marjorie Wolfe's middle son was born on Valentine's Day. She and her husband chose the "nomen," Jonathan, which means "gift of God" in Israel.
___________________________________________
Marjorie Gottlieb Wolfe is the author of
two books: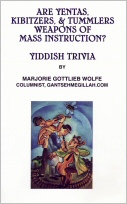 "Yiddish for Dog & Cat Lovers" and
"Are Yentas, Kibitzers, & Tummlers Weapons of Mass Instruction? Yiddish
Trivia." To order a copy, go to her
website: MarjorieGottliebWolfe.com

NU, what are you waiting for? Order the book!


Site Designed and Maintained by
Haruth Communications