IT'S "TEIER" (COSTLY) TO RAISE A CHILD--
EDUCATION FACTS, STORIES AND TRIVIA


by
Marjorie Gottlieb Wolfe



Syosset, New York
I recently had the pleasure of reading David McCullough, Jr.'s Book titled, "you are not special and other encouragements."
I especially liked the following quote:(note, the yiddish terms have been added):
"And kids cost money ("gelt"). In any neighborhood ("shkheyneshaft"). With a kid in the house ("hoyz") money pours in Torrents out the door ("tir"), out the windows, up the chimney ("koymen"), out the dryer vent, between the clapboards. Children need to be fed, clothed, accoutred. A pair of sneakers here, a Birthday present ("geboyrn-tog matone") there, a birthday present There ("dortn"), here a hockey stick, there a graphing calculator, There another ("ander") graphing calculator because the first One got swiped, lab fees, team fees, piano ("pyane") lessons, braces, Tuition, defrayments, copays. Bills, bills, bills, bills. It's enough To make a strong parent weep ("veynen").
Queen Latifah says that women worry about the 3 M's:men, the Mother-in-law ("shviger"), and money. And Lizzie Skulnick says there should be a word "buldget"--a spending plan that is out of control.
According to The Huntington Post (8/15/13), it will cost $241,080 to Raise a child born in 2012 until age 18. That's based on a middle-income family, defined as one earning between $60,640 and $105,000 a The calculation includes such expenses as health care, clothing, Food, housing and transportation. It didn't include college.
It costs more to raise a child in the northeast than in the south-- $277.170.
So, let's see what it costs today to raise a child:
Tuition/fees (2014-15 school year)
Solomon Schechter School Of Westchester (NY)
K $20,700
1 $23,770
2 THROUGH 4 $24,100
5 $24,300
6 $27,700
8 $31,800
9 THROUGH 11 $35,800
12 $35,600***plus cost of trip to Poland/Israel


Nursery School, Mid-island Y/JCC, Plainview, NY
9:00 - 3:15 (M-F) $963 A MONTH


Cost of admission to Disneyland
a one-day, one-park ticket now costs visitors ages 10 and up, $96, an increase of $4. A one-day park hopper pass, which grants access to both Disneyland or California Adventures costs $150.

Disney world charges $94 for a one-day ticket to Epcot. It's now so expensive ("tayer") that families are saving money by just taking actual trips around the world. :-)


Surprise Lake Camp (Cold Spring, NY)
8-WEEK PROGRAM GRADES 2 - 7 $7,250
GRADE 7 AND UP TO 15 YEARS $7,600
REGISTRATION FEE 350
TRANSPORTATION 60
Note:since 1902 SLC has provided a haven for children. Although The camp serves non-jews who wish to attend, part of their mission is to promote Judaism. SLC has a bar/bat mitzvah program. Each summer an average of 20 people have their bar or bat mitzvahs at the camp. It is completely free to SLC campers, Including a party after.
Back-to-School Spending (2013)
Back-to-school spending (K-12 children) averages $634.78.
Capital One found that 32% of parents plan to spend $100 or less per child, 21% plan to pay more than $200 per child. One public school parent received a bill for nearly $600, which included a charge for a $300 Chromebook laptop that students were required to buy even if they had a different computer at home.


School Uniforms
private schools and some public schools require students to wear a school uniform. These can cost $25 to $200 per outfit for a uniform of mix-and-match standardized clothing.


School lunch
it averages $2.08 to buy a public school lunch. Low-income students may qualify for free or reduced-price 40 cents
maximum lunches.


The Swain School in Allentown, PA, charges $880 a year for grade school lunches.


Thumbsucking
Shari Green is known as "the thumblady" of Long Grove, IL. Her thumbsucking elimination program cost $75 an hour in 2010.


Potty Training
Booty Camp with Wendy Sweeney costs from $300 - $500 in her West Chicago home. Since 2002, more than 900 children have gone through the program. Sweeney, a mother of six, also offers a dvd kit--"Booty Camp Potty Training Program:building self-confidence from the bottom up. "Cost:$89.99. The price includes flashcards, t-shirt, temporary tattoos and a "success" ribbon.


Baby Sitting
Need a baby sitter in Manhattan?Most agencies charge from $16 to $25 an hour. Additional fees may include a transportation stipend of $10 to $15 for jobs that end after 9 P.M.


Autism
In the U.S. about one is every 88 children has an autism spectrum disorder. The cost of services for children with autism averages more than $17,000 per child each year. (health day news, 2/10/14)


The Cobb County school system in Marietta, GA, plans to live-stream some of its graduation ceremonies on the internet.


In Wichita, Kansas, a local church plans to open a free store for teachers in which individuals or companies can donate ("Shenken") Supplies for use in classrooms so the instructors don't have to pay for them out of their own pockets. (the average teacher spends between $600 and $1,500 a year of his or her own money on classroom ("klastsimer") supplies.)


Sat Prep
Private tutoring for the sat exam can cost $90 to $125 an hour.
In major cities like Manhattan, tutoring can run $195 for 50 minutes. You can easily drop $3,000 or more trying to raise
your teenager's test scores.

2400 sat classes in Las Vegas, cost $899 for 12 3-hour classes and six 4-hour practice sat exams. The course runs 6 weeks.


CUNY (City University of New York) faces discrimination charges
The City University of N.Y. Was a target of a federal discrimination complaint in 2013 by an honors student from Manhattan.

Stephanie Stewart, 27, says she had to quit ("oyfhern") a class after a professor told her she couldn't make up any tests she missed if she had her baby before the end of the summer. The University agreed to send a memo to professors and administrators reminding them that they have to make accommodations for pregnant ("shvanger") students.


Admission Advisers
In the last four years, the number of independent admissions advisers (as opposed to school-based counselors) is estimated to have grown to nearly 5,000. While the going national rate is about $185 an hour, some charge families more than $40,000.

Ivysuccess in Garden City, NY, charges some clients nearly $30,000 for their platinum package. Katherine Cohen, the founder of Ivywise in NYC, has a team that charges from a few hundred dollars to more than $40,000. They have a spinoff called Applywise that for $299 they'll help students assemble their application in ways similar to turbo tax.
Grad Speech
The Univ. of Connecticut Alum, Rick Mastracchio wanted to deliver this year's (2014) school of engineering graduation
address in person. But he'll be out of town on may10--orbiting the globe on the int'l space station. So the 54-year old astronaut will give the speech from space.


Cheating
The take-home final exam for Harvard University's 2012 introduction to congress course was open-book, open-note, and open-internet. Students were not allowed to consult ("meyashev zine zich mit") with other people.

But consult they did. Within a few months the university ("universitet") was investigating nearly half the class for
plagiarizing or improperly collaborating. There were other cheating scandals at the air force academy and New York City's Stuyvesant High School. Source: "Who Cheats--And Why" by Julie Beck, "The Atlantic, January/February
2014.


Macbook
In 2014, every Shawne Mission High School (Kansas) student got a Macbook; Ipads were received by middle school and elementary school students.


Graduation Fees
Seniors at gateway sciences to health (Queens, NY) were required to pay about $160 in graduation fees this June (2014).
$25 Cap and Gown
$20 Tassels
$15 Graduation Tickets
$25 Program
$85 Prom Tickets


Costly School Books
USA Today (8/30/13) reports that the price for new college textbooks has been rising about 6% a year. There has been a 82% increase in textbook prices since 2002. Publishers have been able to drive up textbook prices because students "have to buy whatever textbook they've been assigned. "Used books and digital textbooks can save as much as 40%. And some students photocopied or scanned chapters from other students' books.


Camp Pamper
Professional organizers in NYC charge to pack kids' trunks for summer camp. The total cost for a well-packed kid can run $1,000. Barbara Reich of resourceful consultants charges $250 an hour. "aroysgevorfine gelt!"--a waste of money.


Advanced Placement
The percentage of students in u. S. Public schools taking advance placement tests has doubled in the past 10 years.


Courses 2013
At American University students enrolled in "The Fifty Shades Trilogy. "The "50 shades" books by E. L. James is not great literature but that doesn't mean students can't learn something from these publishing blockbusters. The course addresses the cultural, legal and business issues around books that have introduced bondage and dominant-submissive sex to the masses.


NJ Teen Suing Parents For Education Costs
Note: the Yiddish word meaning "to abandon" is "avekvarfn" or "oplozn. "
A NJ student who says her parents abandoned her when she turned 18 lost a first round in the lawsuit she filed against them for school costs and living expenses. This case could set a precedent for a family's obligation to support a child who has left home.

Rachel Canning, 18, says her parents, Sean and Elizabeth Canning, kicked her out after she turned 18. She wound up living with a friend's family. Her parents said she voluntarily left home because she did not want to follow the rules of the house, including doing chores and adhering to a curfew. Rachel filed a lawsuit claiming he is still dependent on her parents for support because she is in school and not yet legally emancipated Under New Jersey law. She wants her parents to pay the remaining $5,000 in tuition to the catholic high school where she is a senior. She is seeking access to a college fund and repayment of her Legal fees.

"Di Frage" (the question) is: a kid at the age of 18 says he or she is moving out of the house--do parents have a legal obligation ("hiskhayvis") to support their kids until emancipation?


A 100-Year-Old Northern California Woman Got Her High School Diploma Some Eight Decades After She Dropped Out. Hayward High Awarded Mildred Principe Her Diploma During A Ceremony At The School That Included A Limousine Ride, Orchestral Music And A Cake ("Lekekh") In Her Honor. Principe Enrolled At Hayward High In 1927, When Some Students Still Rode Horses To School. This Is No "Bobe Mayse"--A Far-Fetched Story; A Grandmother Story.


Birthright Israel--Free
Note: The Yiddish word for "free" is "Umzist."
Taglit-Birthright Israel has sent more than 350,000 young Jewish adults (18 - 26) on a life-changing trip to Israel for free! They fly to Israel and board a bus that will take them on a journey of self-discovery, solidarity, community, and Continuity. Marjorie Wolfe's granddaughter, Amanda, 21, is presently in Israel as part of "Birthright Israel. "
----------------------------
Marjorie Gottlieb Wolfe reminds all students to stay in school.
Over a lifetime, the U. S. college grad will earn at least $800,000 More than the average high-school graduate.
___________________________________________
Marjorie Gottlieb Wolfe is the author of
two books: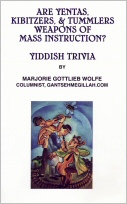 "Yiddish for Dog & Cat Lovers" and
"Are Yentas, Kibitzers, & Tummlers Weapons of Mass Instruction? Yiddish
Trivia." To order a copy, go to her
website: MarjorieGottliebWolfe.com

NU, what are you waiting for? Order the book!


Site Designed and Maintained by
Haruth Communications