IS YOUR YOUNG ADULT "DERSHLOGN"?
DOES HE/SHE WANT TO STOP THE WORLD AND GET OFF?
CONSPIRE TO CARRY OFF THE "PERFEKT" CRIME?
by
Marjorie Gottlieb Wolfe



Syosset, New York
*In Yiddish, the word "dershlogn" means to be mentally depressed.
Bob Herbert (The New York Times, 3/3/09) writes, "The U. S. economy is in free fall, the banking system is in a state of complete collapse and Americans all across the country are downsizing their standards of living. The nation as we've known it is fading before our very eyes..."
Paul Dales, an economist, forecasted that the February [2009] employment report will show a decline of 785,000 jobs. If so, it would be the largest one-month decline in employment in nearly 60 years
And Warren Buffet wrote in his company's annual report that "the economy will be in shambles throughout 2009, and, for that matter, probably well beyond."
David Leonhardt (The New York Times, 3/4/09) writes, "The Great Recession of 2008 (and beyond) is hurting men more than woman. It is hurting homeowners and investors more than renters or retirees who rely on Social Security checks...In the long run, this Great Recession may end up afflicting the comfortable more than the afflicted."
There's a Yiddish proverb, "Di velt iz grois, ireh tsores moch gresser." (The world is big, its troubles still bigger.)
In Yiddish, the word "depresye" means an economic depression; "more-shkhoyre" means depression (sadness).
Has your "zun" or "tokhter" recently lost his/her job? Have they been heard to say that "the whole world stinks"?
Dr. Abraham J. Twerski reminds us that "the value of a person cannot be measured by the commercial yardstick of profit and loss."
I recently had the extreme pleasure of reading Rabbi Harold S. Kushner's book, "Overcoming Life's Disappointments - Learning From Moses How To Cope With Frustration." Chapter 4 is titled, "New Dreams for Old Ones" and deals with depression ("dershlogn"). He writes, "I had a friend in graduate school who was everyone's choice as 'most likely to succeed.' Handsome, brilliant, an honors graduate of an Ivy League university, he seemed destined to follow in the footsteps of his very successful and very demanding father. Three failed jobs and two failed marriages later, he tragically took his own life, haunted by the 'tyranny of the dream,' unable to replace the dream of glorious success with a more realistic, more attainable one" (Note: Jewish tradition teaches that life is a gift from God, and God alone has the right to make decisions about life and death. Therefore, suicide is morally wrong.)
Twersky continues, "For the most part, mens' dreams center on success in business, women's dreams on fulfilling relationships. Psychological studies have shown that when women are admitted to a hospital for severe depression ("dershlogn"), or a failed suicide attempt, it will almost always be because of a failed or broken relationship-- someone important has gone out of a woman's life, through death or rejection. When a man is admitted under the same circumstances, it will almost always be work-related--he was passed over for promotion, his company failed, or his stock portfolio evaporated." (Think of the two suicides that were related to the Madoff Ponzi scheme!)
And in the book, "Tough Times Never Last, But Tough People Do," by Robert H. Schuller, we read:
He asks, "Are you unemployed? Are you depressed to the point that you want to stop the world and get off? Maybe you are exaggerating your problem.
Would you rather have your left leg amputated? Would you like to trade places with my daughter? My wife had her left breast removed because of cancer. Would you rather have her problem?
In my experience as a pastor, I have never met anyone who wanted to exchange his problem for someone else's. Put your problem in its proper perspective The seriousness of it will pass."
So, mama and "tate," look for the signs of "circumstantial depression"--depression due to loss of a job, change in monetary status, trouble in relationships, the passage of a loved one, divorce, or any other change in life that we can all experience.
It's NOT enough to say, "Alts vet zikh oysglaykhn." (Everything will smooth itself out.)
___________________________________________
Marjorie Gottlieb Wolfe is the author of
two books: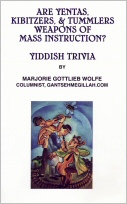 "Yiddish for Dog & Cat Lovers" and
"Are Yentas, Kibitzers, & Tummlers Weapons of Mass Instruction? Yiddish
Trivia." To order a copy, go to her
website: MarjorieGottliebWolfe.com

NU, what are you waiting for? Order the book!


Site Designed and Maintained by
Haruth Communications