IT'S HURRICANE "SEZON"
DON'T "PANIK"
by
Marjorie Gottlieb Wolfe



Syosset, New York
Norm Dvoskin is a popular News 12 meteorologist. He's the one who defines a "Weatherman's Greetings" as "Good-morning, possibly?" Last year he discussed the 1938 hurricane, its impact on Long Island, and his experiences dealing with hazardous conditions as a TV "veter" (weather) forecaster.
I was born in 1938, the same year that New York had a Category 3 hurricane on the Saffir-Simpson Hurricane Scale. It pounded New York City and Long Island with winds gusting 90 mph. "Veter" coverage of that day was "nisht" (not) anything like what is available today. For instance, no satellite, radar, or anything except ship reports. The spread of this information to "der klal" (public at large) was limited and most people didn't pay a lot of attention, since Long Island weather never seemed to fit the pattern of the continent most of the time.
Eastern L. I. suffered the worst wrath of the storm. The Dune Road area of Westhampton Beach was obliterated, resulting in 29 deaths. A "kino" (movie theatre) at Westhampton was also lifted out to sea; around 20 people at a matinee, and the theatre--projectionist and all-- landed two miles into the Atlantic and drowned. There were 21 other deaths through the rest of the east end of L. I.
Well, it's hurricane "sezon"...again. One thing predictable are their 2009 names: Danny, Erika, Fabiano, Grace, Henri... "Danken Got" (Thank God), there's never been a hurricane named "Marjorie."
The Orlando (FL) Sentinel published a list of 30 Things that Hurricanes Charley and Frances Taught You. My friend, Sylvia, a West Palm Beach resident, has FEMA's number on her speed dialer. She forwarded me a portion of the Sentinel list:
An oak tree on the ground looks four times bigger than it did standing up.


When house hunting, look for closets with lots of leg room.


AA, C and D are the only alphabet we need (think batteries).


Chainsaw-wielding-men are nothing to be afraid of.


You can't spell "priceless" without I-C-E.


Gasoline is a value at any price.


Candlelight is better than botox--it takes years off your appearance.


No matter how hard the wind blows, roadside campaign signs will survive.
And writer, Dave Barry, [2001] recommended that you follow this simple three-step hurricane preparedness plan:
STEP 1. Buy enough food and bottled water to last your family for at least three days.
STEP 2. Put these supplies into your car.
STEP 3. Drive to Nebraska and remain there until Halloween.
And now for the best hurricane story.
It's no "bobe mayse"" (old wive's tale).
The headine read:
FLORIDA GOVERNOR CITES KOTEL
PRAYER IN ABSENCE OF HURRICANES
Yes, the governor of Florida, Charlie Crist (R), said he placed prayer notes in the Western Wall asking God to prevent hurricanes from hitting his state.
Crist noted that he inserted a note with the prayer during a trade mission to Israel in 2007 and that no major ("hoypt") hurricane had struck the state since. The prayer was as follows: "Dear God, please protect our Florida from storms and other difficulties. Charlie."
After no major storms hit the state in 2007, Crist asked Florida Sen. Nan Rich (D) to put a note with the same prayer (tfile") in the Kotel when she traveled to Israel in 2008, and had a friend ("fraynd") do the same earlier this year.
Crist said that he wasn't taking credit for the lack of hurricanes. "I gave that to God," he said. "But it's nice."
---
Marjorie Gottlieb Wolfe's favorite Margulies cartoon has the following caption: A young son asks his father, "How'd they come up with the name Isabel for this hurricane?" Dad replies, "Beats me, son...I guess they couldn't get any corporation to buy the naming rights."
___________________________________________
Marjorie Gottlieb Wolfe is the author of
two books: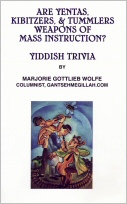 "Yiddish for Dog & Cat Lovers" and
"Are Yentas, Kibitzers, & Tummlers Weapons of Mass Instruction? Yiddish
Trivia." To order a copy, go to her
website: MarjorieGottliebWolfe.com

NU, what are you waiting for? Order the book!


Site Designed and Maintained by
Haruth Communications