IF YOU WANT TO, YOU CAN TURN OVER THE WHOLE WORLD
("AZ ME VIL, KEN MEN IBERKERN DI GANTSE VELT.")


by
Marjorie Gottlieb Wolfe



Syosset, New York
Frank Sinatra said, "There is something to be said for keeping at a thing, isn't there?"
There's a "vunderlekh" (wonderful) story titled, "Don't Quit; Keep Playing."
Note: The Yiddish word meaning "to quit" is "oyfhern."
Wishing to encourage her "yung" (young) son's progress on "di pyane" (the piano), a mother took her boy to a Jan Paderewski "kontsert"(concert). After they were seated, the mother spotted a friend in "der oylem" (the audience) and walked down the aisle to greet her.
Seizing the opportunity to explore the wonders of the concert hall, (der yingl" (little boy) rose and explored his way through a door marked,

NO ADMITTANCE
When the house lights dimmed and the concert was about to begin, the mother returned to the seat and discovered that the child was"felndik" (missing).
Suddenly, the curtains parted and spotlights focused on the impressive Steinway on stage. In horror, the mother saw her little boy sitting at the keyboard, innocently picking out "Twinkle, Twinkle Little Star." (In some versions of the story, the boy played "Chopsticks.")
At that moment, the great piano master made his "arayngang" (entrance), quickly moved to the piano, and whispered in the boy's "oyer" (ear),"Don't quit. Keep playing."
Then leaning over, Paderewski reached down with his left "hant" (hand) and began filling in a bass part. Soon his right arm reached around to the "anderer" (other) side of the child and he added a running obligato. Together, the old master and the young novice transformed a frightening situation into a wonderfully creative experience.
The audience was mesmerized.
When I think of the expression, "Keep trying," I think of those who want to be married and aren't, those who want children and haven' been successful, those who are grieving over the loss of a loved one, those who are themselves ill with a serious disease, and my grandson, Connor, who is applying to college.
Should I tell them, "Keep your chin up. It will be all right in the end"? Or perhaps I should say, "Yeder barg aroyf hot zayn barg arop." (Every uphill has its downhill.)
Shown below are some interesting stories about famous people who didn't quit.
. The first time Jerry Seinfeld walked on "di bine" (the stage) at a "komedie" (comedy) club as a professional comic, he looked out at the audience, froze, and forgot the English "loshn" (language). He stumbled through "a-minute-and-a-half" of material and was jeered offstage. He returned the following "nakht" (night) and closed his performance to wild applause.
. In "hayskul" (high school), actor and comic, Robin Williams, was voted "Least Likely to Succeed ("matsliakh zayn").
. Walt Disney was fired by a "tsaytung" (newspaper) editor because "he lacked imagination and had no good ideas." He filed for "bankrot" (bankruptcy) several times before he built Disneyland. In fact, the proposed park was rejected by the city of Anaheim on the grounds that it would only attract riffraff.
. Charles Schultz had every "karikatur pas" (cartoon strip) he submitted was rejected by his high school yearbook staff. Oh, and Walt Disney wouldn't hire him.
. After Fred Astaire's first screen test, the memo from the testing director of MGM, dated 1933, read, "Can't act. Can't sing. Slightly bald ("lise"). Can dance a little." He kept that memo over the "kamin" (fireplace) in his Beverly Hills home.
. When Lucille Ball began studying to be an "aktrise" (actress) in 1927, she was told by the head instructor of the John Murray Anderson Drama School, "Try any other profession."
. Louise May Alcott, author of "Little Women," was encouraged to find work as a "dinst" (servant) by her family. "Nit far dir gedakht!" (May it never happen to you.)
. John Grisham's first book, "A Time To Kill" took three years to write. The book was rejected 26 times until he got one yes for a 5,000 copy print.
. Woody Allen wrote, "I don't want to achieve immortality through my work. I want to achieve it by not dying. Eighty percent of success is showing up."
--------------------------------------------------------------------------
Leo Rosten ("Hooray for Yiddish") told this joke:
A Jew asked his son, "Exactly what did Einstein do that was so smart?"
"Einstein revolutionized physics. He proved that matter is energy. That when light goes past the sun, it bends. That--"
"Awright, awright," said the old man. "But tell me: from that he makes a living?"
___________________________________________
Marjorie Gottlieb Wolfe is the author of
two books: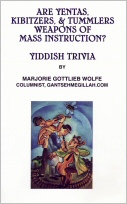 "Yiddish for Dog & Cat Lovers" and
"Are Yentas, Kibitzers, & Tummlers Weapons of Mass Instruction? Yiddish
Trivia." To order a copy, go to her
website: MarjorieGottliebWolfe.com

NU, what are you waiting for? Order the book!


Site Designed and Maintained by
Haruth Communications