IS MATTHEW BRODERICK A
"MITTELMESSIKER"?
by
Marjorie Gottlieb Wolfe



Syosset, New York
According to Fred Kogos ("From Shmear to Eternity - The Only Book of Yiddish You'll Ever Need"), a "mittelmessiker" is an average man, a person who is neither smart nor dumb.
Over the years I've listened to Garrison Keillor, America's tallest radio humorist and "shpilmener" (tale teller), talk about the fictional world of Lake Wobegon, Minnesota. This "shtetl" (town) has its memorable characters and places, but what distinguishes it from other towns with a population of about 942, is its attitude. In this rural Minnesota town, all the women are strong, all the men are good looking("sheyn"), and all the children are ABOVE AVERAGE.
This past week the headlines read:
MY HUSBAND IS AVERAGE...SARAH
JESSICA PARKER MAKES A GAFFE
ABOUT MATTHEW BRODERICK ON LETTERMAN
Yes, Sarah Jessica Parker, mother-of-three, was left "royt"-faced" (red-faced) when she misspoke and told David Letterman that her husband was "average." She was promoting "Sex and The City 2, and was actually talking about her "zun" (son), James Wilkie, 7, being "kleyn" (small) in comparison wth the other children his own age. That's when she let "di bamerkung" (the comment) slip.
"Matthew is average...I'm just...not in personality or intellect! No, no, no, no, let me clear this up for the record. Not in personality, intellect, charisma, talent, genuine likeability...well the list could go on and on."
Matthew Broderick is certainly not average! He's received Tony Awards for his performances in "Brighton Beach Memoirs" and the revival of "How to Succeed in Business Without Really Trying." He starred in "The Producers" and Neil Simon's "The Odd Couple."
Oh, how I remember how Broderick gave this "vunderlekh" (wonderful) performance in Brighton Beach Memoirs.
If you recall, Broderick played Eugene, a 15-year-old sassy Jewish kid. The scene:
Brooklyn, New York, 1937. This is the "shmu'es" (conversation) that takes place with his mom, Kate:
Kate: I need bread.
Eugene: What?
Kate: I don't have enough bread. Run over to Greenblatt's and get me a fresh rye bread.
Eugene: Again? I just came back from Greenblatt's.
Kate: So, you'll go again.
Eugene: I'm always going to the store. When I grow up, that's all I'll be trained to do, go to the store.
Kate: You don't want to go?...Never mind, I'll go.
Eugene: Don't do that! Don't make me feel guilty. I'll go.
Kate: And get a quarter of a pound of butter.
Eugene: I bought a quarter pound of butter this morning. Why don't you buy a half pound at a time?
Kate: And suppose the house burned down this afternoon? Why do I need an extra quarter pound of butter?
Eugene: If my mom taught logic in high school, this would be some weird country.
(Eugene is explaining his intense desire to play for the Yankees)
Eugene: I'll never make it with the Yankees. All the great Yankees are Italian. My mother makes spaghetti with ketchup - what chance do I have?
Matthew Broderick, you're certainly NOT AVERAGE!
___________________________________________
Marjorie Gottlieb Wolfe is the author of
two books: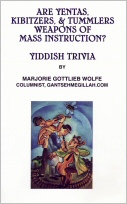 "Yiddish for Dog & Cat Lovers" and
"Are Yentas, Kibitzers, & Tummlers Weapons of Mass Instruction? Yiddish
Trivia." To order a copy, go to her
website: MarjorieGottliebWolfe.com

NU, what are you waiting for? Order the book!


Site Designed and Maintained by
Haruth Communications