IN SIX WORDS--OR MORE--I LOVE YOU

by
Marjorie Gottlieb Wolfe



Syosset, New York

In Yiddish we say, "Ain hartz fielt di andereh." (One heart feels another's affectations.)

The New York Times (2/2/09) carried an article about the retirement of The Rev. Dr. Arthur Caliandro, who delivered his final sermon at the Marble Collegiate Church in Manhattan. He adhered to the
KISS (Keep It So Short/Keep It So Simple) method of communicating. The title of his sermon: "Go with faith.

What did the leader of the church say?
"Really, what it is all about is love. That which very human being, everyone of us needs and wants more than anything else, is to be in relationships where we feel safe.
Relationships where we are understood, affirmed, and forgiven."

Dr. Caliandro, 75, who went through two divorces, is now married for a third time.
He said, "That was tough. Here I am a minister in a pulpit like this, two failed marriages, and none of these people tried to push me out. One woman told me once, 'The reason we never pushed you out is because you never stand on the pulpit pointing your finger at us."

Valentine's Day 2009 is rapidly approaching, and there's a new book titled, "Six-Word Memoirs on Love and Heartbreak by Writers Famous and Obscure" by Larry Smith and Rachel Fershleiser.

The editors of Smith Magazine have turned their attention to the topic of love. They asked contributors to reveal their love lives into 6 precious words. Imagine getting down to the essence of who you are--of capturing every shade of love and loss--in 6 words.

In Yiddish there are so many words of endearment:

amorous "libe"
embrace "arumnemen"
handsome "sheyn"
love "di libshaft"
lover "der gelibter"
romantic "der romans"
sweet "zis"
sweetheart "der gelibter"/di gelibte"
heart "dos harts"
darling "di lyuve"
beau "der feler"
girlfriend "khaverte"/"frayndine"

So, what 6 words can be used to express our thoughs on love?

. FOUND YOU ON FACEBOOK.
"SHEYN PONIM."

. BOTEACH PUTS V-R-O-O-M
BACK IN THE BEDROOM.

. YENTA THE MATCHMAKER.
TODAY SHE'S INCORPORATED.

. BIRTH. BRIS.
BED BATH AND BEYOND.

. MET ON JDATE.
"TAKHEH A METSIEH."

. ENGAGED FOR TWO YEARS.
"NU, SHOYN!"

. ONLY A STONE
SHOULD BE ALONE.
("NOR A SHTEYN ZOL ZAYN ALEYN."

. MY MARITAL ADVICE?
MARRY AN ORPHAN.
Kistina Wright

. SPERM TOO POTENT.
NOW HAVE TRIPLETS.

. MAY WE MEET
ON HAPPY OCCASIONS.
("Me zol zikh bagegenen oyf simkhes.")

. YUNG. ALT.
THEY'RE ON "CHAI EXPECTATIONS."

. GIRL WITHOUT "K'NIPPEL.
ALREADY YOU'RE DISCOURAGED!

. YOUNG, GORGEOUS GIRL.
"AHF MIR GEZOGT."

. "GATKES" DISCOVERED ON BEDROOM
FLOOR. DIVORCE.

. LOVE ANNIHILATED
THIRTY YEAR AGE DIFFERENCE.

. "DER GELIBTER" LEFT.
SAID "ZAY (T) GEZUNT."

. FOUND TRUE LOVE.
MARRIED SOMEONE ELSE.

. SAY "CHOSSEN"
WITH THE HARD "KH."

. A DOZEN ROSES.
"IR GEFELT MIR ZAIER."
(You please me a great deal.)

"CHAI RIDERS"?
MOTORCYCLE CLUB FOR JEWS!

. "BASHERT CONNECTIONS.'
NOT YOUR TRADITIONAL MATCHMAKER.

. WHEN ALL ELSE FAILS,
SPEAK YIDDISH.
_______________________________
Marjorie Gottlieb Wolfe's favorite
love story...as told by Rodney Dangerfield:

My first blind date. I waited on the corner
until this girl walked by. I said, "Are you
Linda?" She said, "Are you Rodney?" I said,
"yeah." She said, "I'm not Linda."
___________________________________________
Marjorie Gottlieb Wolfe is the author of
two books: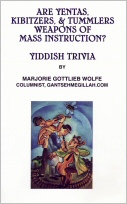 "Yiddish for Dog & Cat Lovers" and
"Are Yentas, Kibitzers, & Tummlers Weapons of Mass Instruction? Yiddish
Trivia." To order a copy, go to her
website: MarjorieGottliebWolfe.com

NU, what are you waiting for? Order the book!


Site Designed and Maintained by
Haruth Communications