"IKH HOB GETON EPES SHLEKHTS"
(I have done something wrong)


by
Marjorie Gottlieb Wolfe



Syosset, New York
Two You-Tubers at Santaluces High School in Florida admit that they did something wrong. They made a 4-5 minute video containing a laundry list of complaints against their black fellow students. (The school is 27% white and 35% black, according to the girls.) They are both white.
In the girls' bedroom dialogue the "n" word is used. One girl said, "I don't like black people. They're annoying. They stink. They're ugly." They posted it on YouTube!
Is this an example of racial insensitivity?
Childish? Are they "Shtik holtz" (dumb like a piece of wood)? Or, would we call them a "dumkop" (dumbell)?
Yes, the "n" word is making the news.... again. Just a few months ago, the headlines read:

WHITE TEACHER SUSPENDED FOR
USING N-WORD IN CLASS.
CHICAGO TEACHER SUES TO SAY
N-WORD WHILE TEACHING
HUCKLEBERRY FINN
2/18/12
Teacher, Lincoln Brown, talked about the use of the word in Mark Twain's Huckleberry Finn, and how upsetting it can be. The principal walked in on the lesson and later accused him of being "verbally abusive," and "cruel." Lincoln is a white teacher at the predominantly African-American Murray Languge Academy.
Brown was suspended for five days for using the N-word in a sixth grade classroom. Brown said he was attempting to teach his class an important lesson in civility and a lesson in vocabulary.
No, there's never been a headline that read:
JEWISH MOTHER USES N-WORDS
WHEN SPEAKING TO HER CHILDREN.
All Jewish mothers--mine included--frequently used "n" words.
They included:
"naches," "nudnik," neshomeleh (sweetheart), "Nu?" "nudje," "nochshlepper" (hanger-on, unwanted follower), and "Nu, shoyn" (Hurry up. Aren't you finished?
Let's go! This word has infinite meanings.)
The Yiddish word "Nit" is used in so many Yiddish proverbs::
"Nit fun a shaineh tsurkeh vert a guteh veib."
(A pretty face doesn't make for a good wife.)
"Nit itlecher vos zitst oiben-on iz a pan."
(Not all who sit at the head-table are aristocrats.)
"Nit kain entfer iz oich an entfer."
(No answer is also an answer.)
"Nit yeder hartz vos lacht iz frailech."
(Not every heart that laughs is really cheerful.)
And, finally, my favorite "n" word: "noch."
According to Leo Rosten ("The Joys of Yiddish"), "noch" means ANOTHER. Ex. "Give me noch an example."
Rosten tells the story of an elderly Jew, riding in the subway ("sobvey") and he sees a Negro reading the Jewish Daily Forward.
The Jew watched, spellbound, as the Negro read sedately on. Finally, unable to contain himself, the old man asked, "Excuse me ("antshuldik mir"). I don't want to be rude --but I have to ask it: Are you Jewish?
("Tsi bistu yiddish?")
The Negro lowered the paper in disgust:
"That's all I need noch!"
___________________________________________
Marjorie Gottlieb Wolfe is the author of
two books: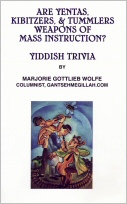 "Yiddish for Dog & Cat Lovers" and
"Are Yentas, Kibitzers, & Tummlers Weapons of Mass Instruction? Yiddish
Trivia." To order a copy, go to her
website: MarjorieGottliebWolfe.com

NU, what are you waiting for? Order the book!


Site Designed and Maintained by
Haruth Communications