FROM PANTSUIT TO POWER SUIT


by
Marjorie Gottlieb Wolfe



Syosset, New York
Isaac Bashevis Singer said, "What a strange power there is in clothing." James Laver said, "Clothes are never a frivolity: they always mean something."
A private Facebook group has designated Nov. 8 as "National Pantsuit Day." According to their official website, the one-of-a-kind event will consist of people taking to the streets wearing "awesome, '90s-fabulous thrift-store ladies' pantsuits" in support of Hillary Clinton. There will be marches in New York, Philadelphia, Detroit, LA, Boston, Dallas and San Francisco.
If you want to participate, you'll face a tricky challenge:
finding a pantsuit similar to Hillary Clinton's. The candidate ("der kandidat") has her clothes custom made.
If you don't own a pantsuit, the site encourages "professional attire that would make your mother proud" ("shtolts")—sweet, sweet matching tops/bottoms (matchsets encouraged)," and/or Hillary gear for days.
I vividly remember the dress standards when I began teaching at Island Trees High School on Long Island. The year: 1958. The chemise dress was in; no one wore slacks or pantsuits! The chemise can be best described as a dress cut straight at the sides and left unfitted at the waist. Oh, yes, it was a size 9!
Hillary Clinton's wardrobe ("garderob") has been making the news for years. Just recently, she arrived at the Alfred E. Smith Charity dinner in New York City wearing NOT her usual uniform but instead, a bold hot pink ("rozeve") coat dress.
Dress is a concern even outside of the U. S. On Aug. 9, 1999, this headline appeared:
MODESTY SQUAD DRESSING DOWN
SECULAR ISRAELIS
The story: In pursuit of a lunchtime yogurt, Ronit Fahima crossed a narrow street from the Education Ministry, where she works, to a corner grocery. Dressed in a sleeveless pantsuit, she was ambushed by a group of ultra-Orthodox women who swaddled her in a blue cloth and told her she was indecent. "May your home be destroyed!" they cursed as she ran. "Disaster will befall your family!" As Fahima tells it, a veritable riot broke out between Ministry employees and ultra-Orthodox men, until police arrived. (Source: Tracy Wickinson, Times Staff Writer)
And I recall an episode of "I Love Lucy" where a pants-wearing Ethel Mertz says, "I can't go to the subway in my blue jeans!"
F-a-s-t f-o-r-w-a-r-d to 2016.
JULY 20 headline:
THE MESSAGE BEHIND HILLARY'S NEUTRAL
PANTSUIT
Raquel Laneri (nypost.com) wrote, "It was a smart choice…helped complete the image her husband and daughter painted of her as a devoted wife and mother and a tireless crusader (What emails?)…She's made the power suit her brand…and on Thursday she didn't look like she was trying to be one of the guys, she didn't look like she was trying to feminize a masculine garment with a touch of pink or a scarf or whatever…She just looked like herself. Now let's hope—after all that talk about manufacturing jobs—that her suit was made in the USA."
Sept. 30 headline:
OUR LADY OF THE PANTSUIT: IN PRAISE—
YES PRAISE—OF HILLARY CLINTON'S STYLE
Sonja Livingston (salon.com) wrote, "It's time we talk about pants. Hillary's specifically. I'm thinking of the red pair she rocked a few nights ago at the first 2016 presidential debate. Candy Apple. Crimson. Whatever you call the shade…Red screams I'M HERE. Red says I"M NOT BACKING DOWN."
On Oct. 19, 2016, Emily Tannenbum (elle.com) wrote, "Tonight's the third and final presidential debate between Hillary Clinton and Donald Trump. Of course, before any words were spoken,Twitter came together to praise Hillary Clinton's ivory Ralph Lauren pantsuit."
huffingtonpost.com posted the following headline on October 20:
"DROP EVERYTHING: HILLARY CLINTON WORE
SOMETHING OTHER THAN A PANTSUIT. TWO
WORDS: HOT. PINK."
And on November 8, Hillary Clinton supporters across Canada are planning to wear their pantsuits with pride on U.S. Election Day. The mostly female group has been united in a Facebook group called "Canadian Pantsuit Day for Hillary." Group member, Marie Cardona, says, "I think they [pantsuits] represent the woman she is. Modern, independent, sharp, and in control."
---
MARJORIE GOTTLIEB WOLFE agrees with P. J. O'Rourke: "Never wear anything that panics the cat."

___________________________________________
Marjorie Gottlieb Wolfe is the author of
two books: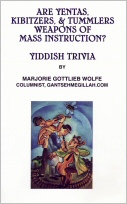 "Yiddish for Dog & Cat Lovers" and
"Are Yentas, Kibitzers, & Tummlers Weapons of Mass Instruction? Yiddish
Trivia." To order a copy, go to her
website: MarjorieGottliebWolfe.com

NU, what are you waiting for? Order the book!


Site Designed and Maintained by
Haruth Communications