FINGER COUNTING & OTHER
MATH STORIES


by
Marjorie Gottlieb Wolfe



Syosset, New York
Someone once said, "Math is like love; a simple idea, but it can get complicated."
My uncle ("feter"), Harry Goldberg, was a math professor at Brooklyn College. If he were alive today, he would chuckle at the following math stories:
Stephen Colbert (The Colbert Report) discussed the common core math, and we never laughed harder. He
shared the following CC math problem:
Q. Jack used the number line below to solve 427-316.
Find his error. Then write a letter to Jack telling him what he did right and what he should do to fix his mistake.
Colbert said that CC teaches two important workplace skills: math and passive aggressive note writing.
A second question:
Q. Mike saw 17 blue cars and 25 green cars at the toy store. How many cars did he see? Write a number sentence with a grey box for the missing number.
Explain how the number sentence shows the problem.
A second grader in California answered the question as follows: 17 + 25 = 42. I got the answer by talking in my brain and agreed of the answer that my brain got."
Jo Craven McGinty (WSJ, Oct. 22-23, 2016) wrote about school children who count on their fingers. Many people discourage finger counting for fear it impedes learning. The opposite appears to be true.

"DI UNTERSHTE SHURE" (the bottom line):

Studies have shown that children with better finger perception tend to be more skilled at mathematics. Dr. Jo Boaler, a professor of mathematics, wrote, "We're not saying everyone should count on their fingers their entire life. What's being said is, if you really know your fingers well, that's going to help you. It's a strategy that you can count on."
A PARENT QUESTIONED THE COMMON CORE MATH CURRICULUM. HIS YOUNGEST SON WAS IN KINDERGARTEN AND WAS GIVEN THE FOLLOWING MATH PROBLEM:
THERE ARE FOUR AIRPLANES FLYING, THEN TWO MORE AIRPLANES JOIN THEM. HOW MANY AIRPLANES ARE FLYING NOW?"

THE FATHER WAS VERY DISAPPOINTED BY THE SIMPLICITY OF THE PROBLEM.

"WHAT CONFUSES YOU?" HE ASKED THE 5-YEAR-OLD.

THE CHILD SAYS, "I KNOW THAT 4 + 2 = 6, BUT I CANNOT FIGURE OUT WHAT THE AIRPLANES HAVE TO DO WITH THIS."
A mathematician and an engineer are on a desert island. They find two palm trees with one coconut each. The engineer climbs up one tree, gets the coconut, and eats it. The mathematician climbs up the other tree, gets the coconut, climbs up the other tree and puts it there. "Now we've reduced it to a problem we know how to solve," he said.
An engineer, physicist and a mathematician are staying at the Fontainebleau in Miami Beach. The hotel is situated on oceanfront Collins Avenue in the heart of Millionaire's Row. Designed by Morris Lapidus, it has 1,504 rooms, with two towers, 12 restaurants and bars.

The engineer wakes up and smells smoke. He goes out into the hallway and sees a fire, so refills a trashcan from his room with water and douses the fire. He goes back to bed.

Later, a physicist wakes up and smells smoke. He opens his door and sees a fire in the hallway. He walks down the hall to a fire hose and after calculating the flame velocity, distance, water pressure, trajectory, etc. extinguishes the fire with a minimum amount of water and energy needed.

Later, the mathematician wakes up and smells smoke. He goes to the hall, sees the fire and then the fire hose. He thinks for a moment and then exclaims, "Ah, a solution exists!" and then goes back to bed.
Salome, a young apprentice cobbler of Chelm, took as his bride a girl of his own age—18. Imagine his surprise when, three months later, his new wife gave birth. Naive as he was about such matter, he was nevertheless astounded at this phenomenon, so he rushed to the rabbi's "heym" (home).

"Rabbi," he exclaimed, "you will find this difficult to believe, but my wife just gave birth to a baby."

"Wives usually do," commented the rabbi.

"But we have only been married three months. My own mother, she should rest in peace, told me it takes nine months to make a baby. Believe me I am terribly worried."

"Vos hakst mir in kop?" (What are you talking my head off for?") asked the rabbi as he stroked his beard and reflected upon this strange occurrence. When he had meditated long and earnestly he spoke to the "yung" man, his voice unusually kind. "We will solve this mystery with talmudic logic, through the asking of questions.

"First, my son, you say you have been married for three months?"
"Yes, Rabbi."
"Your wife has lived with you for three months?"
"Yes, she has."
"And you have lived with your wife for three months?"
"Yes."
"There you have it, young man. Add up the total:
Three months plus three months plus three months.
How much is that?"
"Nine months, Rabbi."
"Correct," said the rabbi gently. "Zay mir freylekh!" (Be happy.) Peace be with you and yours. Now go home to your wife and nine-month baby."
Isn't math "vunderlekh"( wonderful)?
---
___________________________________________
Marjorie Gottlieb Wolfe is the author of
two books: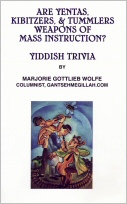 "Yiddish for Dog & Cat Lovers" and
"Are Yentas, Kibitzers, & Tummlers Weapons of Mass Instruction? Yiddish
Trivia." To order a copy, go to her
website: MarjorieGottliebWolfe.com

NU, what are you waiting for? Order the book!


Site Designed and Maintained by
Haruth Communications