THE COMMENCEMENT SPEAKER IS
"ROBOT REDFORD"
"Ver volt dos geglaibt?"*
*Yiddish term for "Who would believe it?"

by
Marjorie Gottlieb Wolfe



Syosset, New York


Thousands of "tateh-mameh" showed up at a SUNY (State University of New York) commencement exercise.

One proud father said to the gentleman seated next to him, "You appear to be very 'gliklekh' (happy) today."

"I sure am," he quickly answered. "We've invested $40,000 in Matthew's education, and he's the first one in our family to graduate from 'di universitet.'"

The music from Pomp and Circumstance could be heard in the background as the procession began. Parents, siblings, and friends beamed with pride as they watched. Cameras flashed.

"Which one in line is Matthew?" the gentleman asked.

"He's not here," the father replied. He returned to his dorm when ROBOT REDFORD, a 4 foot-tall, fiber glass assemblage, appeared on the stage. There was quite a bit of controversy over the choice. My son thought it was insensitive and degrading to use a "goilem" (robot). Others thought the idea was clever and innovative. My son says, 'Once you've seen one robot you've seen them all.'"

"Several years ago I remember reading an essay by Bruce McCall titled, COMMENCEMENT-SPEAKER ORDER FORM. He wrote that one can order a Premium Price commencement speaker (Ex-President, Nobel laureate, European head of state), or a Popular Price speaker (Washington bureaucrat, TV anchor, Kennedy relative, Retired astronaut, Self- made billionaire, or Feminist author). The third choice: a Budget Priced speaker (Unknown novelist, Minor poet, radical environmentalist)." Perhaps he should have added a fourth choice: a talking robot!

The gentleman said, "That's a pity. I guess you're a bit 'dershlogn' (depressed)."

"Not at all. He originally planned to walk up to the podium carrying a huge sign which read:

THIS GRADUATE LOST 200 LBS.
BY GETTING A HAIRCUT; I GOT
MY FATHER OFF MY BACK.

"So, we're grateful to be spared the embarrassment."

"What was Matthew's major while he was at State?"

"He originally majored in Urban Local Government (AKA "Slums and Bums"), changed to World Prehistory (AKA "Stones and Bones"), and finally graduated with a major in Food Service & Restaurant Administration."

"What is he doing this summer?"

"He was offered a job at 'Pizza Pious'--a kosher-Italian restaurant in Woodmere, New York, AND at the Spicy Pickle restaurant chain He chose a job at 'The Original Soup Man'--a 32-location chain based on the Seinfeld Soup Nazi character. He's going to analyze the 40 soups for their calories and sodium content and redo the menu boards People want to know what they're eating."

"Oh, I remember the Seinfeld Episode 116. The term 'Nazi' is used as an exaggeration of the over-regimentation he constantly demands of his patrons.

The episode opens with Jerry saying that the Soup Nazi makes great soup. He takes care to 'prep' George on the strict code of behavior required in the story. This code is simple: do not be loud and annoying, do not take forever on your order, do not try to make small talk ("schmooze") with the Soup Nazi, do not stand around idly (place your order, then step to the side), and DO NOT MAKE COMPLAINTS ABOUT YOUR ORDER. However, when George orders soup and complains that he didn't get any bread, the Soup Nazi refuses George service with his famous catchphrase, 'NO SOUP FOR YOU.'"

The gentleman pointed out HIS son, and began reading an article recently written by Rabbi Shmuley Boteach, titled, "When Your Child Isn't Valedictorian."

The article, taken from newsletter@ shmuley.com says,

"Yesterday I had a record of sorts, having two children graduate on the same day. My eldest daughter, Mushki, graduated high school and my third daughter, Shterny, graduated from eighth grade. Neither of them was valedictorian, indeed neither of them was even salutatorian. As I watched the valedictorian and salutatorian addresses I pondered this for a moment.

I have always said to my children that their grades were meaningless to me, their grades were nothing but a weather vane and often an inaccurate one at that, of something even much more important, namely, intellectual curiosity.

A child is not a circus monkey who has to perform for their parents with grades. Indeed, while I greatly respect academic excellence, I know, from my eleven years as Rabbi at Oxford University, that that sort of excellence is often bought at a price and many students who are outstanding in school suffer commensurately in other areas of life. The purpose of education is not to impress parents with grades, but to make a child curious about life, to value life. To make them want to know history, geography, anthropology, and deeply into the wonders of G-d's creation and what makes the world tick..."

Both families left the graduation. One said to the other: "I think Harry Truman's advice was correct:

I HAVE FOUND THE BEST WAY TO GIVE
ADVICE TO YOUR CHILDREN IS TO FIND
OUT WHAT THEY WANT AND THEN
ADVISE THEM TO DO IT."


___________________________________________
Marjorie Gottlieb Wolfe is the author of
two books: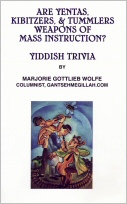 "Yiddish for Dog & Cat Lovers" and
"Are Yentas, Kibitzers, & Tummlers Weapons of Mass Instruction? Yiddish
Trivia." To order a copy, go to her
website: MarjorieGottliebWolfe.com

NU, what are you waiting for? Order the book!


Site Designed and Maintained by
Haruth Communications