PROMS ARE 'VUNDERLEKH" (wonderful)
THE "TSVEYTER" (second) TIME AROUND
by
Marjorie Gottlieb Wolfe



Syosset, New York
A recent newspaper ad read:

PROMGOERS: Reserve your limousine NOW unless you want to go in your father's Oldsmobile! Call (516)...
Today, proms are not just for high school seniors! Just last year, The Jewish Home & Hospital Lifecare System in New York City, held a Senior Prom for their Manhattan Division residents and patients. Over 125 people attended the balloon-filled auditorium in their finest outfits, including ball gowns and tuxedos.The evening featured a live band, dancing, a conga-line and corsages and boutonnieres. The prom featured a live tango performance by three talented couples, and the evening culminated in the crowning of a Prom King and Queen.Yes, proms are "vungerlekh" the "tsveyter" time around!
To make the most of this "ovnt" (evening), seniors should keep these thoughts in mind:
Your "yung" (young) host may define a PROM as "Programmable Read Only Memory"

Your prom is NOT an "early-bird special"; stay until 11 p.m. and enjoy "dos gantse" (the whole) affair

Vintage prom dresses are "in." So are designer tuxedos by After Six, Calvin Klein, Geoffrey Beene, Pierre Cardin, and Fumagalli's. Don't be surprised if one of the hosts asks if you're wearing the 2006 BASIC LINE--formals for the high-tech senior citizen--with jackets in Lemon Byte, Apple Red, or Silicon Gray
(Note: A high-tech senior has a "tselularer telefon" (cell phone), "pazhir" (pager), "kompyuter" (computer), "kol-post" (voice mail), and his own"vebzaytl" (website).
Say "shalom" to the band leader. Do reminisce about the music of Archie Bleyer, Frank Parker and Marion Marlowe, Julius LaRosa, the McGuire Sisters, Haleloke, the Chordettes, and Carmel Quinn.
Feel free to "zingen" the song, "Vi Zenen Mayne Yunge Yoren?" (Where Are My Youthful Years?)
Ladies, do enjoy your complimentary silk"royz" (rose). Remember that in the language of flowers, the "gel" (yellow) rose means friendship, the "royt" (red) rose means love, and the "orkhidee"(orchid) means business!

Ask one of the "yung" hosts their interpretation of the new verb being used among the allegedly young at heart: "to party." According to Bob Green "Cheeseburgers"),
...a party which means some sort of dance. They were often held at the high school gym; we would take our shoes off so as not to mar the basketball court, and we would do steps such as the Pony or the Jerk to the sound of records or a live band. 'I'm going to party my ("grobkayt" - or obscenity) off tonight,' which is what many current-day partyers say.
If there's a lull in the table conversation, talk to your "yung" host about "hybrid" cars like the "Prius," the Tom Cruise/Katie Holmes baby, "Suri," "Bark Bar Mitzvahs," the return of the mumps, Adam Sandler, and the fact that The Jewish Museum in NYC, which for the first time will stay open on the Jewish Sabbath.

Listen as your host shares his/her most embarrassing moment: he proudly informed an admissions counselor at an Ivy League college that he had been "abducted" into the National Honor Society at his high school. Share the time that you asked a waiter for a "slice"of demi-tasse.

Share this piece titled, "The Joys of Aging or Seniors Delight":
I have become quite a frivolous old gal. I'm seeing five gentlemen every day. As soon as I awake, Will Power helps me out of bed. When he leaves, I go to see John. Then Charley Horse comes along. When he is here, he takes a lot of my attention. When he leaves, Arthur Ritis shows up and stays the rest of the day. He doesn't like to stay in one place very long, so he takes me from joint to joint. After such a busy day, I'm really tired and read to go to bed with Ben Gay. What a day!
Savor the home-made culinary treats. "Diete" (diet) tomorrow! Recall, with "gelekhter" (laughter) your childhood-- that "vunderlekh" period when all you needed to lose "vog" (weight) was to take a bath.

And, follow the advice of Gore Vidal, ladies: sit next to a man in a turban. You'll get photographed more.
____
Marjorie Gottlieb Wolfe attended her prom with other seniors at Far Rockaway High School in 1955. Her date: a young man whose last name is Lowitt.
___________________________________________
Marjorie Gottlieb Wolfe is the author of
two books: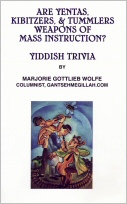 "Yiddish for Dog & Cat Lovers" and
"Are Yentas, Kibitzers, & Tummlers Weapons of Mass Instruction? Yiddish
Trivia." To order a copy, go to her
website: MarjorieGottliebWolfe.com

NU, what are you waiting for? Order the book!


Site Designed and Maintained by
Haruth Communications