PAUL NEWMAN WAS MORE THAN
"THE KING OF CONDIMENTS";
HE WAS "A GUTE NESHOME"
by
Marjorie Gottlieb Wolfe



Syosset, New York
The headline of the New York Sun (9/27/08) read:

WESTPORT, CONN.
PAUL NEWMAN, ACTOR, SUCCUMBS TO CANCER AT 83.
Paul Newman, the Academy-Award winning superstar who personified cool as an activist, race car driver, popcorn impresario, and the anti-hero of such
films as "Hud,"
"Cool Hand Luke" and
"The Color of Money," has died...
What the obit didn't say was that Newman was "a gute neshome"--a good soul.
You learn of some deaths and say--"that's too bad," and in the next breath you find yourself discussing McCain/McSame or whether a mother with a new baby should run for Vice President. This is NOT the case with Paul Newman.
Newman was born in Shaker Heights, OH. His father was Jewish and his mother was born to a Slovak Catholic family. Newman has described himself [Time, Dec. 6, 1982] as Jewish, stating that "it's more of a challenge."
Newman was one of the few actors who successfully made the transition from the 1950s cinema to that of the 1960s and 1970s.
Paul Newman had a great sense of humor, as evidenced by this quote:
"I picture my epitaph: 'Here lies Paul Newman, who died a failure because his eyes turned brown.'"
So, why was Paul Newman "a gute neshome"? Newman cared about children who have been cheated out of their childhood because of illness. Over twenty years ago he established the Hole in the Wall Camps. It is now the leading family of camps for children with life threatening illnesses. One camp has expanded to become several Hole in the Wall Camps in the U. S, Ireland, France, and Israel. The camp serves about 13,000 children every year, FREE OF CHARGE.
These quotes tell the full story:
"I try to acknowledge that by giving back something to those to whom luck has been brutal."
"But really I think one of the delights in my life is to go to these camps and see the staff members who, I think, are some of the best part of America, who care for people who are less fortunate than they are."
"I am confounded at the stinginess of some institutions and some people. I'm bewildered by it. You can only put away so much stuff in your closet."
Why was he "a gute neshome"? The "King of Condiments" founded Newman's Own, a line of food products, in 1982. The brand started with salad dressings, and has expanded to include pasta sauce, popcorn, salsa, and wine among other things. Newman established a policy that ALL THE PROCEEDS from the sale of Newman's Own products, after taxes, would be donated to charity. As of early 2006, the franchise has resulted in excess of $200 million in donations.
He has said, "I respect generosity in people, and I respect it in companies, too. I don't look at it as philanthropy; I see it as an investment in the community."
The writer concludes by sharing the following wonderful story:
Urban legend has it that in 1990 a woman entered a Haagen-Dazs in the Kansas City Plaza for an ice-cream cone. While she was ordering, another customer entered the store. She placed her order, turned and found herself staring face to face (f2f) with Paul Newman. He was in town filming Mr. and Mrs. Bridge. His blue eyes made her knees buckle.. She finished paying and quickly walked out of the store with her heart still pounding. Gaining her composure, she suddenly realized she didn't have her cone; she turned to go back in. At the door she met Paul Newman, who was coming out. He said to her, "Are you looking for your ice cream cone?" Unable to utter a word, she nodded yes. "You put it in your purse with your change."
__________________________________
Paul Newman knew that "The lines actors like best are the ones in front of the box office."

PAUL NEWMAN, ACTOR, SUCCUMBS TO CANCER AT 83.

___________________________________________
Marjorie Gottlieb Wolfe is the author of
two books: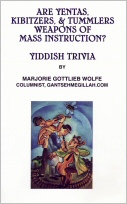 "Yiddish for Dog & Cat Lovers" and
"Are Yentas, Kibitzers, & Tummlers Weapons of Mass Instruction? Yiddish
Trivia." To order a copy, go to her
website: MarjorieGottliebWolfe.com

NU, what are you waiting for? Order the book!


Site Designed and Maintained by
Haruth Communications