PRESIDENT OBAMA IS TURNING "FUFTSIK"
(50)...AND I'M NOT INVITED TO THE
CELEBRATION
by
Marjorie Gottlieb Wolfe



Syosset, New York
"Looking fifty is great if you're sixty."
Joan Rivers
"At 50, Your Warranty Expires"
Tom Dryden
Get ready to celebrate and wish the following people a Happy 50th Birthday in 2011:
Heather Locklear, Meg Ryan ("ummiglekh"--impossible), Eddie Murphy, Julia Louis-Dreyfus, George Lopez, Michael J. Fox, George Clooney (OMG!), Wayne Gretky, Camryn Manheim, Susan Boyle, and Marilyn Milian.
On August 4, President Obama Turns 50.
Not only has he survived his 40s, but he can now get to join AARP!

The New York Post reported:
OBAMA TO-DO LIST:
AUG. 2, AVOID DEFAULT ON THE DEBT.
AUG. 3, BIRTHDAY PARTY AND FUNDRAISER FOR ME, ME, ME!
On August 3, a celebration ("simkhe") will be held. Many people will join Obama for a "big bucks" political fund raiser at the historic Aragon Ballroom in Chicago, Illinois. The Aragon was built in 1926 and designed in the Moorish architectural style with the interior resembling a Spanish village. It was named for a province in Spain.
The Aragon will be the venue for a "privat" (private) dinner with Obama at $35,800 per couple. This is no "tepl-mazel"--pot luck luncheon! It's a Obamapalooze event! If you are attending, remember the expression: "Oif yenems sinchah hot men a guten appetit." (At other people's parties one eats heartily.)
The price list is as follows:
$50 - entry to celebrity concert plus a Happy Meal and a Barack Obama refrigerator magnet.
$1,000 - concert plus premium seating with a hosted bar
$10,000 - preferred seating at the concert and a souvenir photo of Obama. Give a "shmeykhl" (smile)!
Turning 50 is quite an accomplishment.
Eda LeShan ("It's Better to Be Over the Hill Than Under It") compared being 50 with being 71. She wrote about seeing an interview with David Brown, film producer (Jaws, Cocoon, etc.), who was 71 at the time.
She heard him say, "There is absolutely no reason you can't feel as well as you did at fifty, and the secret is never to stop working." (She wanted to kill him.)
LeShan wrote, "At fifty I could ride a bicycle ten miles a day. At fifty I almost never needed a prescription drug. No aches or pains, no getting tired by four in the afternoon, no elderly parents to worry about. Sixty-seven is NOT the same by an stretch of the imagination."
And Tom Dryden ("At 50, Your Warranty Expires") says that at this age you'll need help finding your way (since your glasses along with your hearing, muscle tone, short-term memory and, PROBABLY YOUR JOB) is gone. Yes, and your "dokter" will begin to prepare you for the revolting medical procedures he'll expect you to undergo regularly now that you're 50. "Nisht dogedach"--You shouldn't know from this.
Well, I'm sending Obama these wishes on his birthday:
1. "Mazl-tov!" (Good luck!)
2. "a lebn oyf dayn kop!" (a long life upon your head)
3. "Oyf lange yorn!" (May he have long years)
4. "Zayt gezunt!" (Be healthy!)
5. "Mir zollen zich bagegenen ahf simches."
(May we meet on happy occasions.)
-----------------------------------------
For those who are fortunate enough to attend Obama's 50th celebration, Marjorie Wolfe asks that they call her with all the details/gossip. BUT, not right now. She's taking a nap.
___________________________________________
Marjorie Gottlieb Wolfe is the author of
two books: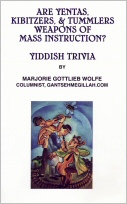 "Yiddish for Dog & Cat Lovers" and
"Are Yentas, Kibitzers, & Tummlers Weapons of Mass Instruction? Yiddish
Trivia." To order a copy, go to her
website: MarjorieGottliebWolfe.com

NU, what are you waiting for? Order the book!


Site Designed and Maintained by
Haruth Communications