PLAYING THE NUMBERS GAME
by
Marjorie Gottlieb Wolfe



Syosset, New York

I've discovered that if you want to sell an article to a Jewish publication, put a "tsol" (number) in the title! Numbers attract attention and increase sales. According to Katharine Q. Seelye, "Cover numerology has taken on a life, and a momentum, of its own."

Shown below are some humorous examples of how numbers can be used in today's "zhurnals" (magazines): . 1 message from a Kosherman Chinese Fortune Cookie: "You will now be charged a fee for your disposable wooden chopsticks. So, you were expecting a Dead Sea Scroll maybe? . 1 Reason Why Mal Z. Lawrence named his dog "Zeesah" . 1 Way to Prevent Jdate from Matching You With Your Brother . 1 Way to Enroll at the Sy Syms School of Business at Yeshiva University Without Paying Full Tuition. (Enroll in September, but start classes in October.) . 2 Ways to Taste the Sweet and Fruity Manischewitz Blackberry Wine (priced at an affordable $4 a bottle) like a pro . 3 Differences Between Snowbirds ("shneyfeygelekh") and Snowflakes ("shneyelekh") . 3 Reasons Why Jewish Mah Jongg is Now Experiencing a Resurgence in Popularity . 3 Reasons to Vacation on Martha's"Vin-Yid" . 3 Ways to Get the Carnegie Deli to Name a Sandwich After You . 4 Ways that Hebrew National Answers to a Higher Authority . 4 Reasons Why Rabbi Shmuley Boteach said, "No chuppah, no shtuppa" . 6 Signs You're Very "Khasene gehat" (married) . 10 Things Not To Do in a Shabbos Elevator . 12 Recipes for Matzoh Foo Young . 12 Ways to Save Gelt at SuperSol . 13 Ways to Give a "Bark" Mitzvah--the celebration of a hunt's 13th birthday . l3 Reasons to Hire a Bar Mitzvah Bouncer . 18 Excuses for Joining the Motorcyle Club, "Chai Riders" . 19 Tips for Getting Along With Your "Shviger" (Mother-in-Law) . 20 reasons you should take the kids to hear Hasidic Rapper, Matisyahu . 20 Tips on How to Get the Family to watch"Shalom in the Home" starring Rabbi Shmuley Boteach . 25 Yiddish Computer Terms, starting with "Drek arayn, drek aroys" (Garbage in, garbage out) . 28 Ways to Prevent "Mother Love" from Becoming "Smother Love." "Es tut zikh nit azoy gut vi es redt zikh." (Easier said than done.) . 30 Ways to "shpotzir" (to walk without destination) through Crown Heights . 33 Things to Know About Writing Jewish Sermons Besides KISS--Keep It So Short . 35 FREE tips on How to Design Your Own"Vebzaytl" (website) . 37 Reasons why Yeshiva Grads Prefer He'Brew Beer and Mashuga Nuts . 39 Uses for "Di Bankes" (cupping glasses) . 40 Reasons Why Everyone Identifies the Seinfeld expression, "The Yada Yada" BUT few can identify the acronym 'YADA"- Yiddish American Digital Archive . 45 Reasons why the Term "Pushke" has been replaced by "Tzedakah box" . 48 Things Your Lender at Bank Leumi Won't Tell You for "umzist" (FREE) . 50 Ways to Train a Jewish "hunt" (dog) Without Too Much "Tsuris" . 50 Reasons Why Your Jewish Mother Never Threw Anything Out . 55 Ways to Razzle, Dazzle the Admissions Director at Yeshiva University . 100 Tips on How to Look "Yung" (young) and "Shlank" (slim) Before Your 25th High School Reunion . 100 Reasons Why American Jewish Parents Tend to Look Upon Their Children as "Naches-Producing" Machines


___________________________________________
Marjorie Gottlieb Wolfe is the author of
two books: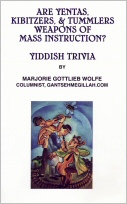 "Yiddish for Dog & Cat Lovers" and
"Are Yentas, Kibitzers, & Tummlers Weapons of Mass Instruction? Yiddish
Trivia." To order a copy, go to her
website: MarjorieGottliebWolfe.com

NU, what are you waiting for? Order the book!


Site Designed and Maintained by
Haruth Communications