COOKING LIKE A JEWISH "BOBE"
by
Marjorie Gottlieb Wolfe



Syosset, New York


They say that you can tell a lot about people by the books they read. I like reading cookbooks!

Erma Bombeck wasn't Jewish but she knew a "bisl" about cooking. In 1965 she wrote, "Why doesn't someone write a cookbook for the suburban woman with one car that is used by her husband? Some real clever ("klug") woman would call it 'Cookbook for the Suburban Woman With One Car That Is Used by Her Husband.'"

She added, "If I were writing a cookbook, I would naturally include my Fake-It Casserole. You substitute a cup of noodles ("lokshn") for a cup of asparagus. Then for the sour cream ("smetteneh"), you add a tablespoon of vinegar to the milk you have on hand to curdle it or forget about it entirely and add a can of mushroom soup ("zup").

If you don't have cream of mushroom soup, put in a cup of grated cheese. However, if you have the mushroom soup, add bread crumbs and some minced onions...Bake at 350 degrees..."

F-a-s-t f-o-r-w-a-r-d 40 years, and we've got a "bukh" titled, "How to Cook Like a Jewish Grandmother" by Marla Brooks. This cookbook contains no "calorie counts, carbohydrate statistics, or other nutritional guidelines" says the author. (Taste is all that counts!)

Her recipes include everything from knishes to blintzes, with a little borscht (beet soup) and kugel thrown in.

Marla writes about the Sunday brunch at her "heym" "Grandma would weigh the dining room table down with delectable goodies and then we'd eat until we were ready to plotz. I don't remember much about my great-uncle Sam, except for the fact that after every meal at our house, he'd ask for Bromo Seltzer, down it in one or two gulps, give an earsplitting grepps (burp), and retire to the sofa a happy man."

Marla adds, "While Grandma was putting out the appetizers ("forshpayz"), grandpa would pour each adult a shot glass of schnapps...On holidays ("yontoyvim"), though, everyone got the requisite glass of Manischewitz wine..."

In Marla's "heym" they NEVER had white bread; she never tasted a bologne "sendvitsh" until she was in her teens.

The author says that "You don't have to be Jewish to cook like a Jewish grandmother."

Her recipes include:

"Leon's Pfannkuchen" (Pfannkuchen literally means a big pancake). Now that's a word for the B'way show, "The 25th Annual Putnam County SPELLING BEE"!

"Grandma's Cold Beet Borscht" Marla writes, "Its been my experience that non-Jewish men aren't too crazy about beets, and will usually do a double take when seeing a bowl of borscht for the first time because of its Pepto-Bismol- like hue. They don't know what they're missing." (Ah bissel borsht is what Mrs. Michelangelo put in her son's thermos every day while he was working on the Sisteen Chapel, according to Ruth and Bob Grossman.)

One of my favorite recipes from the book is found on page 104: PUPIK FRICASSEE. Marla explains: "Fricassee is a French term for meat, especially chicken or veal, browned lightly, stewed and served in a sauce made of its own stock. PUPIK means 'bellybutton' in Yiddish..."

And what is "The breakfast of Jewish champions" during the High Holy Days? According to Marla, it is "STEVEN'S MESHUGGANA SCRAMBLE" - eggs, cream cheese, garlic, basil, toasted egg bagel, and tomato slices.

So, if, in your family, the "f" word means fricassee, fritter, and fish cakes, r-u-n to your local bookstore, buy the book, start cooking, and ESSEN, ESSEN!

_____
Marjorie Gottlieb Wolfe is no Ina Garten (the Barefoot Contessa) or Rachael Ray.
Her favorite Yiddish expression: "Abe du bust latkes vos mebr darfst du?"
(If you have latkes, what more do you need?)

___________________________________________
Marjorie Gottlieb Wolfe is the author of
two books: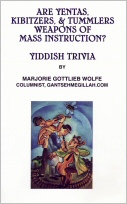 "Yiddish for Dog & Cat Lovers" and
"Are Yentas, Kibitzers, & Tummlers Weapons of Mass Instruction? Yiddish
Trivia." To order a copy, go to her
website: MarjorieGottliebWolfe.com

NU, what are you waiting for? Order the book!


Site Designed and Maintained by
Haruth Communications