CONVERSATIONS AT THE AIRPORT


by
Marjorie Gottlieb Wolfe



Syosset, New York
Isn't it wonderful "tsu geyn of a vakatsye" (to go on a vacation)?
Paul Reiser ("Couplehood") writes about how a couple both stare at people and enjoy a rousing game of 'Let's Figure Out What's Wrong with Them.' Fun in airports, restaurants, wherever you go.
----------------------------------------------
"See that girl over there--with the earrings? She's with security. Used to be CIA."
"Okay. The guy over there--eating by himself? Just broke up with his girlfriend."
"No, she left HIM."
"For her aerobics instructor."
"Good call."
----------------------------------------------
You arrive at the airport 2 1/2 hours before departure time and wait. You practice your Yiddish:
"Ot iz mayn pas." (Here is my passport.)
"Ven muz ikh aroyf oyf der shif?" (When do I have to board?)
"Fun velkher toyer for ikh op?" (From which gate do I leave?)
"Tsi muz ikh alts efenen?" (Must I open everthing?)
The year is 2001. My husband, Howard, and I are sitting at the West Palm Beach Airport waiting for our flight back to New York's J.F.K. Airport.
Howard has his newspaper and finds a seat away from all the "tuml" (noise). His attitude: The less you talk, the better off you are. Mine differs: If you mix around, you learn quite a bit.
So, I sit myself next to a woman who is traveling alone, introduce myself ("Hi, I'm Marge."), and strike up a conversation. "Fun vanet kumt ir?" (Where are you from?) "Brooklyn."
The woman begins to "kvell" (brag) about her only daughter and "eydem" (son-in-law). They're financially successful: large home in Wellington, FL...and they own several horses. They are major contributors to the Kravis Center in West Palm Beach, and four times a year--each season--her daughter buys mom a new wardrobe. She says, "I'm so lucky. They accompanied me when I needed hip surgery at L.I.J. and hired a R.N. to care for me until I recuperated."
She then began to quote Jackie Mason: "If a daughter should marry a doctor, that's great. But if he's a specialist ("spetzyalist"), that's even better. And if he should own a medical center on top of that, then the 'naches' is nearly beyond words."
Her conversation is perfectly timed--deftly delivered.
Over the PA system, passengers are asked to board the airplane. The woman stands up, grabs her carry on "bagazh" (baggage), and whispers six very touching words: BUT I DON'T HAVE ANY GRANDCHILDREN."
--------------------------------------------
Marjorie Wolfe has five grandchildren, and is expecting her sixth to arrive in December.
___________________________________________
Marjorie Gottlieb Wolfe is the author of
two books: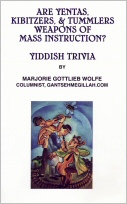 "Yiddish for Dog & Cat Lovers" and
"Are Yentas, Kibitzers, & Tummlers Weapons of Mass Instruction? Yiddish
Trivia." To order a copy, go to her
website: MarjorieGottliebWolfe.com

NU, what are you waiting for? Order the book!


Site Designed and Maintained by
Haruth Communications