PROM TIME: "PROM COSTS, "PROMPOSALS,"
AND DUCK TAPE PROM DRESSES


by
Marjorie Gottlieb Wolfe



Syosset, New York
IT'S PROM TIME. JOHNNY CARSON ONCE SAID, "I WAS TURNED DOWN SO MANY TIMES FOR A DATE FOR THE JUNIOR SENIOR BANQUET, I FELT LIKE A BEDSPREAD." AND "BILL BLAHS" IS THAT AWFUL FEELING THAT YOU PAID TOO MUCH FOR THE PROM TUXEDO.
50% OF AMERICAN GIRLS VIEW THEIR PROM AS EQUAL ("GLAYKH") IN IMPORTANCE TO THEIR WEDDING ("KHASENE").
JAMES COVERT SAYS THAT "THE THEME FOR THIS YEAR'S PROM IS "BUDGET." (THE YIDDISH WORD FOR BUDGET IS "BUDZHET.") HE SAYS THAT THE AVERAGE US HOUSEHOLD PLANS TO SPEND $978 THIS YEAR ON PROM DRESSES, TUXEDOS, DINNERS, LIMO RENTALS AND OTHER PROM-DRIVEN NEEDS. (VISA PHONE SURVEY) IN 2013, THE AMOUNT SPENT WAS $1,139, A PEAK REACHED AFTER THREE STRAIGHT YEARS OF INCREASES.
THE WEST COAST REMAINS THE BIGGEST-SPENDING PROM REGION, AVERAGING $1,125 PER FAMILY. MIDWESTERN FAMILIES ARE THE MOST FRUGAL. (SOURCE: NEW YORK POST, APRIL 10, 2014)
TEENAGE TRAFFIC-FATALITIES INCREASE DRAMATICALLY DURING PROM SEASON. THE BIGGEST DANGER TODAY'S "TSENERLINGN" (TEENAGER) FACES ON PROM NIGHT [OR GRADUATION NIGHT] IS AUTO ACCIDENTS, EITHER BECAUSE THE DRIVER HAS BEEN DRINKING, IS TIRED, OR IS SIMPLY DISTRACTED BY A CARLOAD OF FRIENDS.
ACCORDING TO THE INSURANCE INSTITUTE FOR HIGHWAY SAFETY, THE MONTHS FROM APRIL THRU JULY SEE SOME OF THE HIGHEST TEENAGE TRAFFIC FATALITIES OF THE ENTIRE YEAR.
2013 STATISTICS STATED THAT 6% OF STUDENTS WOULD DRIVE DRUNK ON THEIR PROM NIGHT. 90% OF TEENS WOULD DRIVE DRUNK AFTER THE PROM. (SOURCE: THE COMPLETE LAWYER)
ACCORDING TO MOTHERS AGAINST DRUNK DRIVING (MADD), CAR CRASHES ARE THE LEADING CAUSE OF DEATH FOR TEENS, AND ABOUT A QUARTER INVOLVE AN UNDERAGE DRINKING DRIVER.
"One of the most stressful things about high school, in general, is finding a date for the prom," says Liz Perle of the Huffington Post. The "promposal" trend has gotten so out of hand, some schools have banned them. Solomon Schechter School of Westchester officially put an end to the practice. A faculty meeting held in the spring of 2012, found that asking a date to a prom in public is counterproductive to both students' academics and the values the school tries to impart. Educators feel that promposals which take place in the classroom can be a distraction from learning.
One English teacher at Bronx HS of Science said, "A student asked me if he could interrupt class to stage a mock sword fight, after which he asked a girl to the prom.
LET'S LOOK AT SOME "INTERESANT" (INTERESTING) PROM STORIES/FACTS:
In the 1950s to mid 1960s, think Crinoline and Tulle. Consult the classic movies like "Grease," "Back to the Future," and "Peggy Sue Got Married." The gowns were remarkably "bouffant." Dresses offered layers of ruffles and puffed sleeves. Gowns were paired with bee-hive coiffures.
The late 1960s and 1970s was a dressing revolution. Dresses took a turn in the opposite ("heypekh") direction. Gone were the layers of fluff as the dresses were more free-form and free-flowing. We saw muted shades and subtle florals, and toned-down hairstyles.
1980s Dresses were flashy, asymmetrical, bright, an often made of taffeta or satin. Conformity was not an issue. The young women sported a unique style. They wore big hair and blue eyeliner.
Recently the Huffington Post listed 100 of the most trendy prom dresses, for those who want to make a bolder entrance to the prom. The list included:
Starburst Prom Dress, Cardboard Press Dress, Confederate-Flag-Prom-Dress,
Doritos Bag Prom Dress, Gum Wrapper Prom Dress, Soda Can Tabs Prom Dress,
and Wearable Technology Dress.
1890s The first reference to "prom" was in the 1890s at Amherst College. A student
spoke of going to the prom, which was likely a formal dance. The current form
of the prom became fully initiated around the 1930s, when they were mentioned
in yearbooks.
1939 The 1939 Sears Roebuck catalog advertised a "Prom Troffer." The description:
Calanese Rayon Satin in a "formal" just packed with girlish appeal!
Neckline punctuated with a pert bow and a shining clip. A shirred waist and
shirred sleeves...a graceful skirt...all combine to make a truly lovely frock. Such
a value! $4.98 plus postage.
1950s The country experienced a post-war boost in the economy and proms started
to become elaborate. The prom court also emerged as socially important and
students were clamoring to be the best dressed and have the best dates.
(Source: www.whatshappeningonli.com)
1955 Marjorie Gottlieb [Wolfe] attended her prom at Far Rockaway High School.
Her date was Saul Lowitt, and her dress came from Peggy's, a lovely shop in
Cedarhurst, Long Island. Her mom said, "Don't select a prom dress or any
other accessory in colors named for spices."
1991 Students at Pine River-Backus H. S. needed more than a ticket, tux, gown
and corsage for their prom. They had to pass a breath ("otem") test to
combat drinking. Parents of those who flunked admission to the dance were
summoned to take them home.
1993 Wendy's founder, the late Dave Thomas, finally got to go to his prom 45 years
after dropping out of high school. After he passed his GED exam in '93,
Coconut Creek H. S. awarded him a diploma and invited him to the prom.
2002 Gay teen, Marc Hall, was forbidden from bringing his male date to his prom.
He sued and won.

2005 Morning annoucements at the Solomon Schechter School of Westchester,
included one item that exasperated some teens: students can only bring
Jewish dates to the prom.
2008 Charleston, Miss. held its first mixed-race prom after the actor, Morgan
Freeman, who grew up there, offered to pay for the event.
Bella Vista H. S. (CA) caused a clash between teenage ritual and religious
ritual. They scheduled their prom on the first night of Passover, one of the
most important holidays on the Jewish calendar. "Families shouldn't have to
face these dilemmas," said Rabbi Reuven Taff.
2010 Montgomery County, GA, stopped its segregated proms they were featured
in an article in The New York Times Magazine. Mr. Smith, the superintendent,
wrote a statement of support for the integrated prom, saying he considered
it "an embarrassment to our schools and community that these events have
portrayed us as bigoted in any way."
2011 According to Jennifer Maguire from Seventeen Magazine, proms are a $2
billion-a-year business.
The Word Spy defines the term "promzilla": n. A high school girl who,
planning for her prom, becomes exceptionally selfish, difficult, and obnoxious.
There is also "Promzilla"--impossible to please prom dress client.
Prom has such a massive build up that afterwards many teens report suffering
from Post Prom depression ("more-shkhoyre")
(Source: WhatEver After, Random Prom Facts, June 8, 2011)
2012 Seniors from the New Community Jewish H.S. and Seniors from the Los
Angeles Jewish Home danced the night away at a "Senior-Senior Prom."
Throughout this event--and Sinatra songs-- the youth and elderly bonded in a
very unique way.
2013 A prom is a recent phenomenon in Israel. Israeli proms are organized by
students and not sponsored by the schools. The big dance found its way
into the country along with American TV dramas about young people in the
mid-1990s, according to Allison Kaplan Sommers. Like Americans, the Israelis
purchase expensive ("tayer") clothing and rent limousines--and perhaps imbibe
a little more than they should.
The Knesset's Education, Culture, and Sport Committee, the National
Parents' Association and the Education Ministry met and called for an end
to the excesses sometimes associated with year end proms.
(Source: JTA - The Global Jewish News Service, 6/14/13)
Jewish high school student, Jake Davidson, asked supermodel, Kate Upton,
to his prom--via YouTube Video. Lipton was not available because she was
filming "The Other Woman." Victoria Secret model, Nina Agdal offered to step in
as his date at Miliken Comm. High School. Interestingly, Jake had to make a
sacrifice to take her. Being 21, Agdal was unable to enter the prom venue due
to the school's strict age limit.
At $100 a pop, the centerfield video board at Yankee Stadium has seen seven
"promposals" this season.
Some students are even renting plane banners to pop the prom question, which
can cost upward of $1,000 in the New York area.
(Source: New York Post, "He promposed!" by Doree Lewak, May 3, 2013)

2014 Totally Modest (ModestProm.com) offers a wide variety of modest prom
dresses for orthodox Jews.
Sequoyah H. S. student, Caden Kluge's prom dress was made of duct tape.
DuckBrand gives a $5,000 scholarship to the person who makes the best
duck tape prom dress or tuxedo. The scholarship doesn't require an
essay or SAT scores. "Danken Got!" (Thank God!)

----------------------------------------
MARJORIE GOTTLIEB WOLFE wishes her grandsons, Scott and Connor, a wonderful time at their high school proms. She tells them not to fret if they don't resemble the Fred-and-Ginger/Patrick and Patsy Swayze duo. Dancing is the art of getting your feet out of the way faster than your partner
___________________________________________
Marjorie Gottlieb Wolfe is the author of
two books: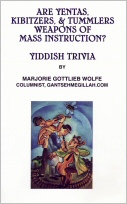 "Yiddish for Dog & Cat Lovers" and
"Are Yentas, Kibitzers, & Tummlers Weapons of Mass Instruction? Yiddish
Trivia." To order a copy, go to her
website: MarjorieGottliebWolfe.com

NU, what are you waiting for? Order the book!


Site Designed and Maintained by
Haruth Communications