JEOPARDY-TYPE ANSWERS


by
Marjorie Gottlieb Wolfe

Syosset, New York
Bob Staake of the Washington Post, asked its readers to supply questions to "Jeopardy-type!" answers. Roger and Pam Dalrymple wrote:
BECAUSE SHE'S NOT TALL ENOUGH
Q. "What's the real reason Ruth Ginsburg chose the law over a career in beach volleyball?"
Shown below are some additional Jeopardy-type answers.
Enjoy!
JOE COLLEGE
Q. What do you call a Yeshiva student, who after a year away studying, he comes home with a long beard and payess, a black wide-brimmed fur hat, and a long black frock coat?"
POKEMON GO PLAYERS
Q. What's gotten thousands of people—young and seasoned—to go outdoors ("in droysn") and has led to the discovery of at least one real dead body?
PAY-PER-JEW
Q. What do you call bringing High Holy Days services to cable? (suggested by Robert Blanco)
NATIONAL SPELLING BEE TO ADD HARDER WORDS
Q. How do you spell the Yiddish words "farblundget," "tsimmis," "chazerei" and "farkrimt"?
STREISAND IS "VERKLEMPT"
Q. Why is Babs "verklempt" (all choked up) over her final, this-is-it, never again concert at Madison Square Garden?
"ES VET ZICH OYS HAILEN FAR DER CHASSENEH"
Q. What do you say to a 17-year-old 'meydl' who has zits on her face the morning of her high school prom?
(Note: The heading means: It will heal in time for the wedding.) The Yiddish term for "pimple faced" is "ferpriskte punim."
GONIFF & GELT
What is the name of a law firm that went on television for the first time with a commercial showing weeping relatives watching their loved one being buried, with the announcer informing the audience that "It is too late for Mr. Smith to make out his will. How about you?" This commercial instantly raised the ire of the State Bar Association which tried to disbar the two lawyers. In the landmark decision, Goniff v. Bar their right to advertise was upheld. :-)
(Source: www.bandersnatch.com/goniff.htm, Aug. 31, 2003)
"FARKACKT"
Q. What term did Sheldon Wehr (New York Post) use when he reviewed a restaurant and gave it 0 (zero) stars?
50 SHADES OF GREY POUPON
Q. What do you call a book title that never made the New York Times best seller list?
"SUNRISE, SUNSET"
Q. What's the name of the song played at 90% of all Jewish weddings? (Note: In Yiddish, it's "Tog Ayn, Tog Oys.")
SOMEONE WHO SPREADS GOOD CHEER WHENEVER HE DOESN'T GO
Q. What was Ann Landers' definition of a "noodnik"?
OKAY! ALRIGHT!
Q. What would a Jewish mother say when she tells her daughter, "So don't name the baby after grandpa, Irving, may he rest in peace…and they name the 'beybi' Luke Picard Lipshitz?"
DR. RUTH
Who is the Jewish psychiatrist who sometimes treats patients claiming to have an "ORGANISM" problem?
"KISHEN KVETSHER"
Q. What do you call a Jewish suiter who comes and spends the time sitting at home? (Note: AKA a "cushion squeezer")
THINK YIDDISH, DRESS BRITISH
Q. What's the secret to success in business?
VERY "SHMUTSIK" & DO NOT BREATHE
Q. What are the two settings on the washing machine at Camp Ramah?
NEW ZEALAND
Q. Where is Supreme Court Justice Ruth Bader Ginsburg heading if Donald Trump is elected President?
"SHADCHAN"
Q. What do you call a dealer in livestock? (Henny Youngman) Note: A "shadchan" is a matchmaker.
"A MAIDEL MIT A KLAIDEL"
Q. What do you call a Jewish cutie-pie showing her new Isaac Mizrahi gown?
MAKING IT WITH MADEMOISELLE
Q. What is the name of a sewing course for high school students?
ONE OF LIFE'S GREATEST MYSTERIES
Q. How can the boy who wasn't good enough to marry your "tochter" is the father of the smartest grandchild ("eynikl") in "di velt" (the world)?
OY DELTA OY
Q. What is the name of the greek sorority that Idina Menzel joined?
CHOCOLATE, CARBONATED BEVERAGES, CAFFEINE, CHEESE AND NUTS, AND CITRIS
Q. What food will certainly cause you to say, "Es brent mir ahfen hartz" (I have a heartburn)?
"DRESSKE"
Q. What do we call a little dress that came off the rack and is certainly not haute couture?
SPELLCHECK
Q. What thoroughly goyish computer with spellcheck changes the word "yenta" to "yen" and "zeida" to "zebra"?
VIN YID
Q. What do you call a Jew on vacation in Martha's Vineyard?
"SHLEPPOST"
Q. What's the name for a regular, nonelectronic postal service?
"SHTARKER"
Q. What terms were used to describe Prime Minister Ariel Sharon and Foreign Minister Benjamin Netanyahu in 2002?
"NARISH"
Q. What do you call a Jewish child who thinks that the 5 Books of Moses were: Genesis, Exodus, Leviticus, LEXUS and Numbers? (Note: "Narish" means "stupid.")
LIFTING THEIR FEET SO YOU CAN VACUUM UNDER THEM
Q. What do men consider housecleaning?
LET'S MAKE THIS NIGHT REALLY DIFFERENT FROM ALL OTHER NIGHTS
Q. What is a humorous Passover Pickup Line?
(Source: Benji Lovitt)
BLAZING SADDLES
Q. What is Michael Bloomberg's favorite movie?
OOLALA
Q. What is a crossword clue for "fancy schmancy!?
ELECT BERT FROM "SESAME STREET"
Q. Why after all these years, isn't it time to have a man of letters in the White House? (Stephen Duzik & Peter Metrinko, The Style Invitational)
WITH MY BARE HANDS?
Q. What did Paul Ryan say when advisers told him to have a friendly handshake with Donald Trump?
(Duncan Stevens, The Style Invitational)
VD
What is the abbreviation for "volume discount"? Or, "Voo Den"?
F U CN RD THS U CN GT A GD JB WTH MO PA
What misleading ad causes one to think that secretaries spend their days reading funny messages and being agreeable? (Kathy Matthews, "Take A Letter Yourself.")
RUBBER FINGER
What office supply is kept in the back of a secretary's drawer….and when it's depleted, she waits until Staples is empty and there's a female clerk behind the cash register before placing her order?
KKK
What are Kosher Krispy Kreme donuts?
SHALOHA
What is the congregation in Hawaii whose name combines "shalom" and "aloha"?
PERSONAL ROBOTS
What MIT course offered students a chance to learn about the development of little helper robots nicknamed ROBOT REDFORD?
___________________________________________
Marjorie Gottlieb Wolfe is the author of
two books: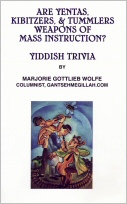 "Yiddish for Dog & Cat Lovers" and
"Are Yentas, Kibitzers, & Tummlers Weapons of Mass Instruction? Yiddish
Trivia." To order a copy, go to her
website: MarjorieGottliebWolfe.com

NU, what are you waiting for? Order the book!


Site Designed and Maintained by
Haruth Communications