Foreword by

George MacDonald Fraser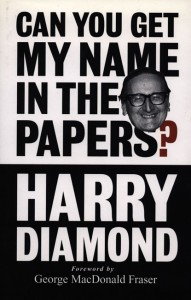 Harry Diamond is one of life's characters. Raised from a family of Russian immigrants fleeing Czarist oppression, he spent his formative years in Glasgow's Gorbals where, he says, ignorance, stupidity, malice, violence, illiteracy and cruelty were rife. From this beginning as 'a half-educated, timid Jewish boy from the slums' he rose to become known throughout the world as the propagandist of the City of Glasgow, the third largest city in the United Kingdom. His campaign to tell the world about the opening of Glasgow's internationally-renowned Burrell Collection brought him plaudits from every corner of the globe, and armed with the slogan 'Glasgow's Miles Better' his department based in the City Chambers led an onslaught on the world's news media which resulted in the international profile of the city rising to unheard of levels. His working life has been varied, to say the least. After a short spell as an office clerk, he entered the exciting world of journalism and in 1944, at the age of 17, he became the youngest reporter in the history of the Glasgow Herald the oldest English-language daily newspaper in the world. On his first assignment he was seriously assaulted, but displaying a dogged persistence which was to serve him well in later jobs, he still got his story and filed his copy. When he covered the political machinations of Westminster he was bold enough to tell Sir Winston Churchill his fly was open! Sir Winston's reply has gone down in the annals of Churchilliana. He also worked for the Scottish Daily Express, Scottish Daily Maii~ Woman's Own and wrote for radio and television before going into PR with the gas industry in 1962. He then did consultancy work for a while before joining the local authority in Glasgow in 1973. Along the way he has been the subject of a White Horse whisky billboard campaign, been sued for £7 million, fought with the TV chef Philip Harben, enchanted Fanny Cradock (who had just insulted him), helped raise the profile of the humble sausage, irritated his Labour-run council by nominating a Tory for election, campaigned for Soviet Jewry, helped re-enact the voyage of the Exodus to Palestine, had a run-in with Billy Connolly and refused large sums of money to 'lift the lid off' the City Chambers. Throughout it all he has walked with heads of state, rubbed shoulders with prime ministers and presidents, ambassadors and film stats and had to deal with a fascinating collection of other characters - some famous and some infamous. Can You Get My Name In The Papers? is Harry's story of how he went from Gorbals to George Square and is told with humour, compassion and a little mischievousness.Harry Diamond is now retired and lives on the south side of Glasgow. Over the years he has advised other cities on PR, including Belfast, Bhopal (India), Blantyre (Malawi), Dimona (Israel), Dublin, Bradford, Stevenage and Liverpool. In 1985 he was said by Local Government News to be 'probably better known round the world than any other public relations man in Scotland beca?se a great deal of what he writes about Glasgow is published and broadcast in Europe, America, Canada and Australia'.In 1989 he was awarded the Sir Stephen Tallents medal by the president of the Institute of Public Relations for exceptional achievement'. In 1994 he was named by PR WEEK as 'one of the Public Relations industry's most influential practitioners of the past decade'.
For many years he worked voluntarily for a large number of communal and charitable organ isations, including Glasgow Jewish Representative Council and The Prince and Princess of Wales Hospital. He has been a member of the ruling executive committee of Erskine Hospital for disabled ex-servicemen and women for more than 20 years and is Chairman of the hospital's Publicity Committee.
He is a widower with two sons, one of whom married a Brazilian girl and the other an Israeli. He has one grandson and three granddaughters.